Audrey Cheptoo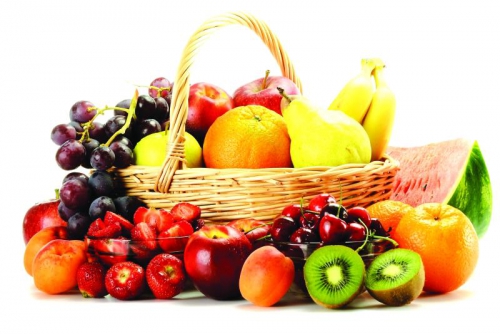 10 foods for flawless skin
The skin is the largest organ in the human body and has the responsibility to protect our bodies from germs.
Our skin reveals to the world how healthy we are as well as our age. The secret to beautiful, flawless skin lies in the foods we eat – the saying, "you are what you eat" could not be more accurate.
"The skin is very important, so whatever we put into our bodies is reflected on the skin. Eat plenty of fruit, vegetables and whole foods for healthy skin," says make-up artist Wacuka Thimba.
A study published in 2010 in the Journal of the American Academy of Dermatology supports the idea that certain vitamins do help to protect our skin. Better yet, many of the same foods that can boost your defenses against skin cancer will also help keep your skin looking younger, smoother and ward off wrinkles and skin problems like acne, psoriasis and eczema.
Even before reaching for the myriad of face cleansers, toners and creams that can protect your skin from the outside in; take a trip to the supermarket or look in your kitchen for these ten foods that can protect your skin from the inside out, leaving your skin looking beautiful and radiant.
1. Carrots, sweet potatoes and other yellow and orange fruit and vegetables
Orange and yellow coloured fruit and vegetables are great for the skin as they contain large amounts of beta-carotene, an anti-oxidant whose yellow, red and orange pigments lend these foods their bright colours.
Beta carotene has the protective quality to defend against damage from sun exposure, as well as promote flawless skin complexion.
Be sure to eat plenty of carrots, sweet potatoes, pumpkin and apricots in your diet. However, take care not to overdo beta-carotene intake, because it has been known to turn the skin to an orangey colour.
A Scottish study published in the online journal PLoS One found that the skin colour change to orange was more likely in people who ate more beta-carotene containing fruits and vegetables than other types of vegetables.
2. Fish
This aquatic white meat is a great source of essential omega-3 fatty acids which are super healthy for the skin. Fish has high concentrations of the healthy fatty acids which are not produced in the body, which is why they have to be supplemented in the diet.
They promote healthy skin by reducing the body's production of inflammatory substances, decreasing clogged pores, preventing the formation of wrinkles and protecting against sun damage.
Snapper, a more readily available fish (at City Market, you can get fresh red snapper or tembu fresh from the Indian Ocean) has an added advantage as it also contains the mineral selenium, which has the ability to reduce the risk of sunburn and promotes an even skin tone.
Aim to eat two servings of fish per week to get your dose of omega-3 fatty acids, which are also essential for heart health.
3. Sunflower seeds
Sun flower seeds are packed full of vitamin E, a powerful antioxidant that slows down the ageing of the skin cells to keep the skin looking young and supple. Sunflower seeds contain a high amount of essential fatty acids which can be topically applied to the lips to keep them moist and soft.
Add sunflower seeds to salads, yoghurt or just eat a handful daily. Vitamin E is also known for its ability to diminish the appearance of scars. Almonds also contain loads of sun-blocking vitamin E.
4. Vitamin C
Vitamin C is a super anti-oxidant that helps boost the immune system, promotes smooth, glowing skin and helps to heal blemishes.
A study published in the American Journal of Nutrition found women over 40 with the highest amount of vitamin C in their diet were less likely to develop wrinkles than those who consumed lower levels.
Increase your intake of vitamin C by eating by eating more guavas, citrus fruit, papaya, pineapple and bell peppers (pilipili hoho) among others.
Eating more vitamin C-rich foods helps to protect skin cells from the sun's harmful rays. Research suggests that vitamin C promotes the repair of DNA that's been damaged by UV rays by mopping up free radicals produced from UV rays.
Vitamin C also has an essential role in the production and maintenance of collagen, the fibrous protein that keeps skin looking young and firm.
5. Tomatoes
Tomatoes contain the active ingredient lycopene, the pigment that gives the tomato its red hue. Eating more tomatoes can protect your skin from the harmful rays of the sun and various cancers. The red fruit is also an excellent source of the anti-cancer mineral selenium.
In one study, participants who were exposed to UV light had almost 50 percent less skin reddening after they ate two and half tablespoons of tomato paste or drank about two to three cups of carrot juice daily, in addition to their regular diet, for ten to 12 weeks.
Tomatoes also help your skin absorb oxygen, delaying ageing and wrinkles.
Eat lycopene rich foods like tomatoes, pink grapefruit, dried apricots and watermelon for tighter, brighter and prettier skin!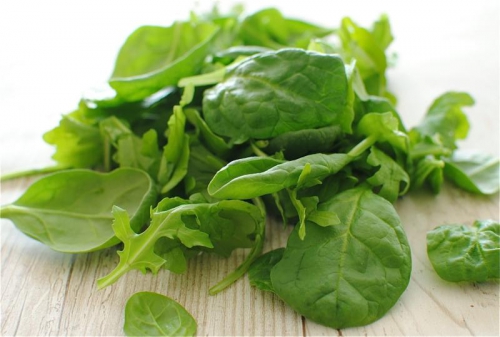 6. Spinach
Spinach has multiple benefits for the skin, including anti-ageing properties, skin repair and gives your skin a healthy glow.
Your skin loses its elasticity as you age; the abundant vitamin A in spinach is an antioxidant that slows down the ageing process caused by exposure to pollution and other toxins.
Spinach also has plenty of vitamin C which works to produce collagen and repair skin cells to keep your skin looking clear and beautiful.
When picking spinach, pick the one that has been exposed to light, as research published in the Journal of Agricultural and Food Chemistry, reveals that spinach stored continuously under the light for as little as three days boasted higher levels of vitamin C and preserved levels of K, E, and UV resistant carotenoids.
"I try and eat raw greens, like baby spinach, lettuce and celery to keep my skin looking and feeling healthy," says mother of two, Debra Mutaki who boasts of a flawless skin.
Wacuka Thimba agrees that raw vegetables are best, adding that they must not be overcooked because nutrients can be lost in that way.
7. Zinc
Zinc is a essential mineral that can be found in foods such as poultry, fish, shellfish, lean red meat, whole grains, nuts and seeds.
Zinc helps to promote the normal functioning of the sebaceous glands in the skin, which produce oil and help to repair skin damage keeping the skin soft and supple.
It also helps in the regeneration of new skin cells and to battle against skin conditions like acne.
8. Eggs
Eggs are an excellent and complete source of protein which helps repair cells that have suffered free radical damage from sun exposure. Eggs also contain biotin, an essential vitamin that protects against dry skin.
"Eggs are a great source of protein, but they must be avoided by people who have egg protein allergies," says Thimba.
9. Cucumber
Cucumber is also great for promoting beautiful skin thanks to the host of benefits it has. It contains many essential vitamins including vitamin C, K, manganese, potassium and beta-carotene which are essential in promoting healthy skin.
Cucumber has a high water content, which means that it keeps the skin well hydrated and glowing. It also acts as a natural bleaching agent, making it useful for lightening the skin and reducing scars. It is also great for evening out your skin complexion.
Because it contains manganese and potassium, cucumber works well to firm up the skin and tightening it, thus reducing and reversing the signs of ageing like fine lines, wrinkles and dull skin.
10. Water
There is still much debate about how much liquid we ought to consume on a daily basis. The general rule of thumb is to drink between eight to ten glasses of water a day.
"We need to drink a minimum of eight glasses of water a day to maintain healthy and hydrated skin," says Thimba
"Our body is 70 to 80 percent water, and if we are not drinking enough, our cells don't regenerate and remove waste, resulting in a buildup of impurities," says Sue Moores, Registered Dietician, spokeswoman for the American Dietetic Association.
Moores also suggests alternating glasses of water with hot tea or unsweetened iced tea — green or black. These beverages boast their own supply of acne-fighting antioxidants and phytonutrients (healthy substances from plants).
Green tea is high on the list of skin-friendly beverages due to its impressive content of antioxidants which have been proven to have anti-inflammatory and anti-cancer properties. Drink it while it is hot though as the antioxidants start to degrade as it cools.
Now that you have learned the secrets to healthy skin, it is time to make beneficial changes to your diet.
"I use a combination of healthy eating, exercising and ensuring that my skin is protected against the elements by cleansing daily and using sunscreen lotion, it works!" adds Mutaki.
However don't expect an overnight miracle. It takes six weeks for new skin to regenerate, so the visible benefits from dietary changes will take just as long. The key is to be disciplined and persistent with the foods you eat and the products you use so that your new skin regime works!