Beryl Wanga Itindi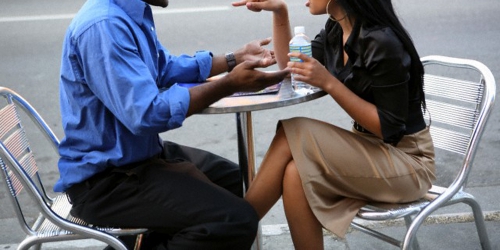 When age is more than just a number
ALSO READ: Bad bachelor: Dad reappears as I'm arrested
Is age just a number or is it a deal breaker when it comes to finding a partner? Most women believe that men older than them make better husbands. These women will even go to the extent of smouldering any love within them just to avoid dating a man younger than them. Research shows that women mature faster than men. This makes women think twice before dating younger men, lest they end up dealing with a small brother instead of a husband.
I have dated a younger man and trust me, it's a no go zone for me. That period of my life was like stepping on a live-wire forever. He was a cry baby, he would cry any time food wasn't ready on time, he would throw tantrums any time we ran out of electricity tokens and experienced a blackout.
You would think he was confusing me for his mother. Why would a full blown adult man comfortably walk to his woman and say "Sink imeblock, tufanye nini?" Seriously. Is the woman supposed to pull out the plumbing tools and start unblocking the sink as you watch from a distance?
This handsome man once took off from the house when a transformer in the neighbourhood blew up causing lights to flicker. To make it worse, I was asleep and he could not even wake me up so that we run for our dear lives together if at all there was reason to. Every time he would settle a bill, he would immediately go into brooding like a hatching chicken, not talking to anyone, all because he spent money. To him, sending "please call me" messages was very normal. How annoying for a man!
I pinched myself back to reality and walked away the day we had an argument after which he refused to talk to me and went under the bed for the rest of the day. As much as I want to blame it on his upbringing, something keeps telling me it was all about his age. Of course, not all of them are as stubborn as mine was, there are those lucky women who got their younger partners from heaven. Mine must have come from another planet, I suspect Satan. I am never going down that lane again. I would rather die a senior bachelorette.
There are those women too, who must have had it rough like I did and settled for older men, way older men. Before you settle for an older man, just ensure he is young enough to treat you like a wife and not like one of his children. Some women go through hell with their older men. These men refuse to view their partners as equal shareholders in a marriage. They do not consult them when making decisions. As a wife, you one day wake up to find movers in your house and when you inquire what they are up to, they tell you that you are moving houses.
You rush to call your husband to tell him about the new development and he sounds cool on the other end telling you he authorized them. How do you decide to move houses without consulting your wife? How do you change your family's medical covers and bank signatories of a business you share with your wife without your wife's consultation? Why should your wife learn about decisions you have made at the same time with your children and employees? Respect is paramount in a union regardless of the age difference. Men must stop using their ages as a license to commit some marriage crimes.
ALSO READ: Men only: 20 clear signs your woman is cheating on you
Whoever said age is just a number must have had the best experiences in life. I am yet to understand that statement.