LILIAN GAITHO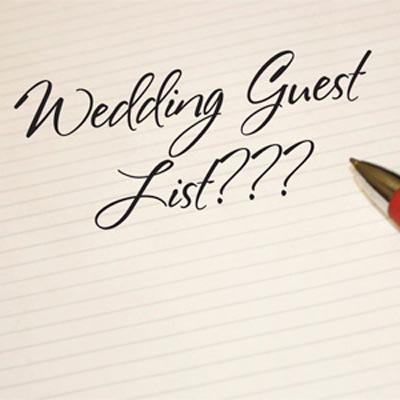 Whether it's your mom pushing you to invite all her neighbours, or your fiancé insisting that you cut your coworkers from the list; most couples confess of the tribulations in compiling an all-inclusive guest list.
The ideal end result being a big happy day, with no begrudged aunts or severed relations. Still, going by the economy and society's idea of privacy and status; streamlining a wedding to a point where you can identify and relate with each guest seems to be the fad…that is, until you mention this to your folks!
When Julius Oketch finally proposed to his fiancée Immaculate Ibuoba, there immediate wedding vision accommodated 'just close friends and family'. They conveniently forgot that his father, being the Anglican Bishop of Kakamega Diocese, had a 'bigger' vision than both Julius and Immaculate's put together! He wanted a wedding that would surpass most of those he had joined. And being a top clergy, there was no way he was going to lock away his own flock.
And so as Julius explains, their wedding dreams quickly flew through the window.
"Dad would hear none of our plans, but the good thing is that he offered to meet the extra budget that came with having an open guest wedding," he recalls.
Apart from the finances, Immaculate's dream ballroom wedding could also not accommodate the numbers and they had to redesign it to fit in the Kakamega Golf Club. Getting married to a bishop's son also had its implications on the bridal wardrobe says the bride.
"I had to throw in a bolero on my dress for modesty and the music, too, was strictly gospel."
The couple confesses that out of the thousand plus attendants, they could only tell a few!
Says Julius: "I printed about 600 invites; I gave out less than a 100 and left my folks to distribute the rest. Immaculate could not get past 50 guests either."
But while Julius and Immaculate favoured a small, intimate wedding; Paul and Esther always envisioned a grand event to host as many as would avail themselves. The two met at a friend's party in Philadelphia, USA and saw it only fair to bring back home the celebration towards the third year of their courtship.
"It was not easy planning the wedding in absentia," says the soft spoken Esther. "Sometimes we would have misunderstandings with our relatives back home on specific vendors, and maybe lose time while trying to discuss and negotiate." They would also discover that there 'Western influenced' tastes was not going to tickle many a taste buds back in the village.
"They (our family) said the sweet and sour chicken was too 'youthful' while the curry rice was too spicy!" explains Paul.
Come the wedding day, Julius and Paul entertained close to 2,000 guests on a three course meal; their wedding reception venue spotted many make shift barbecues, while the guest overflow followed the proceedings on LCD screens mounted across the venue.
Meanwhile, despite sacrificing both her dream mermaid-wedding gown and ballroom nuptials; Julius and Immaculate had a happy, 2,000 plus guest wedding and seemed to enjoy every last bit of it.
So back to the main question: How do you make a guest list that ensures your post-honeymoon relations remain intact while your own dream comes to life?
• Only announce your engagement to those you are sure are 'safe territory'.
• Take your RSVPs seriously and remember to indicate as much to the effect on your invites.
• Remember the rule; 'All or Nothing'? This will work well around coworkers. So unless you have a best friend at work, invite only your boss, or invite everyone.
• Divide seats equally; forget the 'he who pays the piper chooses the music' even if your in-laws are taking in more of the budget for your fete, you can only be safe treating both families equal.
• After all is said and done, remember it's your party. Feel no guilt about leaving out anyone you second-guess!