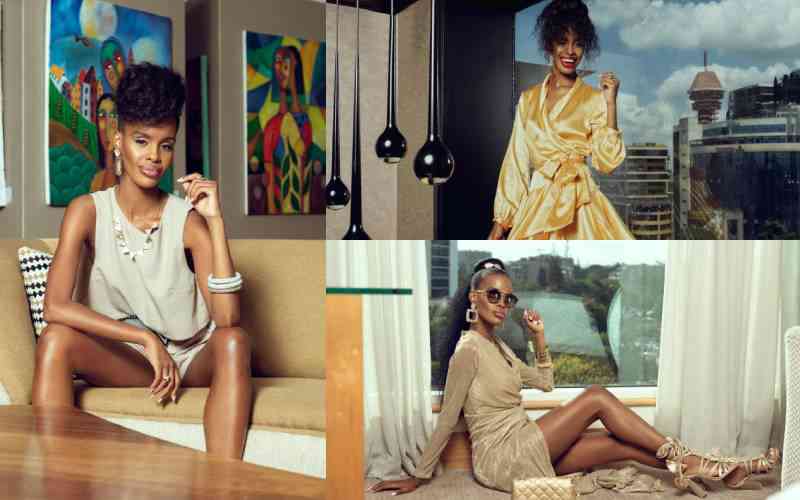 In a world where women are winning, Kaittany is an example of a purposeful woman.
To most people, she is a reality star from 'The Real Housewives of Nairobi" show. However, during an interview on KTN show History Makers hosted by Charles Otieno, Kaittany revealed that she is more than that.
A mother of two adorable daughters, a certified lawyer, businesswoman and former runway model are just some titles that Kaittany has earned.
Dreaming is a hobby to her and actualising dreams is the talent. She has accomplished her dreams over the years fearlessly and unapologetically.
"I tell myself I don't want fear to ruin me. I want to have accomplished a number of things including being in a reality show, by the time I am turning 40. I am living my dream every single day and I have no apologies to make," she said.
At 19 years, she accomplished one of her dreams, modelling, when she won the Miss Earth pageant and represented Kenya globally.
"I represented the country abroad and from that I got a lot of exposure. I took part in local campaigns, Coca-Cola adverts and I could see my face on billboards. It felt good to even make that 200K," she said.
At 19! 200k! That was definitely a bold move. In addition to her fearlessness, her support system was solid. Her parents have always been there throughout her runway and fashion journey.
"My parents have been my biggest support. They might not understand it but they always supported me. During my Miss Earth competition, they took me to the airport, they sat at the front row in all my fashion shows," she said.
Just like she enjoyed modeling for her parents at home, she also enjoys doing make up and anything to do with beauty. This can be proven by how she looks naturally and when stepping out. This kind of ultimate passion birthed Posh Palace hair and salon in Kilimani.
In as much as she says that once you start a business out of passion, you'll never have to work again, her drive in life couldn't allow her to let go of the chance to be in a show.
She auditioned and got the role in the renowned reality TV show, The Real Housewives of Nairobi. The experience was a roller coaster to her and she would re-live it all over again if given a chance.
In this show, Kaittany was the paragon of what a real housewife should be like. At one point she was termed 'a mean girl' by Kenyans on Twitter but this never changed her in any way.
"I can become a mean girl sometimes. If you came at me like that I have to defend myself.
"People like yes people and I am not a yes person so I am not for everyone. I am an acquired taste. I am no nonsense. I speak my mind. I own what I speak and I am bold. I am a good person and I don't need validation from anyone. I am enough," she added.
Boldness. Need I say more?
Related Topics