Home
/
Between The Sheets
Yes! Men fear and worry about their bedroom performance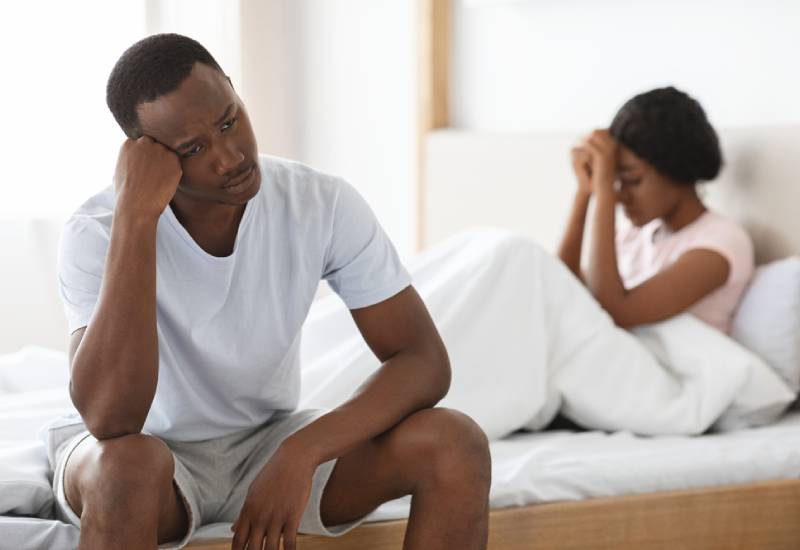 There are anxieties, like waiting for medical, college or job interview results, and then there is sexual anxiety.
For some men, it's short-lived in the wake of a new sexual encounter, and to others, it becomes a waking nightmare.
This fear of failure in performance is common even among self-confessed studs and occurs after experiencing a similar past encounter or from erectile dysfunction.
Prof Joachim Osur, a reproductive and sexual health expert and a professor at Amref International University, says new chances revive old fears which persist when not worsening the problem.
"The fear can be very strong that actually, the person will end up failing. Performance anxiety rises from failure and also worsens with failure," explains Prof Osur adding that "some men will avoid having sex and start using excuses like being tired."
Insecurities, according to Prof Osur, also occur when men worry about their 'bed scores' and how their partners view them.
Then there is premature ejaculation, which also causes performance anxiety and when you add lack of appropriate sex education considering "some men lack techniques of achieving or giving pleasure and most still believe in myths that affect their sexual performance," says Prof Osur, then the fear and worry gets real.
Nyaye Nzae, a resident of Lamu, believes erectile dysfunction depends on genes and blood type as "there are those who use too much energy and with time wear out while those who use pills to enhance performance end up being dependent and can't perform" and if it happens to him, it would be herbs to his rescue.
Hussein Bashora, another resident of Lamu also blames pills, men wanting to show off or prove a point, leading to performance anxiety but the effects are felt later after overuse of pills which boosts energy but worry sets in on how to deal with reduced use.
Prof Osur says "anyone who has had erectile dysfunction will have performance anxiety" and which turns into a medical condition when it recurs repeatedly and starts causing worry in relationships.
Underlying conditions like psychological issues, relationship problems or previous terrible sexual experiences can cause it but "the disease is individualized. If someone has it they have to do a full assessment because the treatment is of the cause rather than the dysfunction itself," says Prof Osur.
Other causes include; insomnia, obesity, diabetes, high blood pressure, hormonal imbalances, and psychiatric problems including depression.
Women also undergo performance anxiety especially those who experience pain-which they anticipate causing anxiety leading to sex avoidance.
Though sexual response cycle includes excitement, plateau, orgasm and resolution with desire and arousal as both part of the excitement, Prof. Osur says women don't experience them in that order.
Related Topics