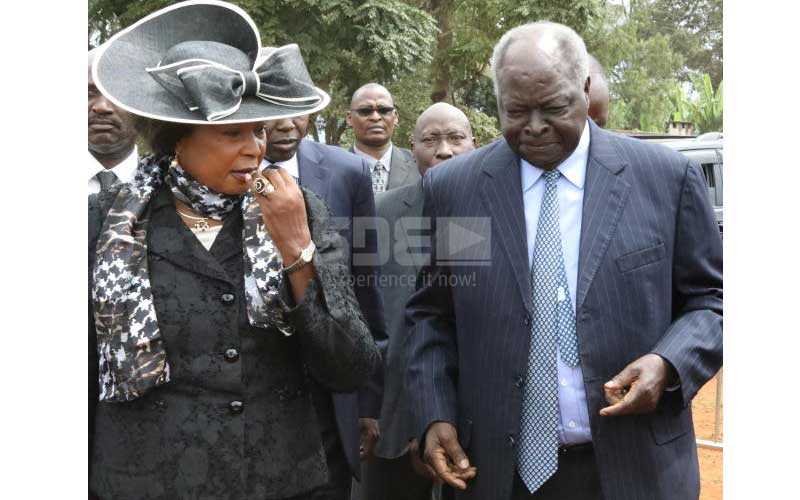 Her marital status, educational background and personal history are shrouded in layers of secrecy
Jacqueline Mahugu talks to former Othaya MP Mary Wambui, hoping to peel some layers
Former President Mwai Kibaki held a press briefing in March 2009 flanked by the then First Lady, the late Lucy Kibaki, to make a very special announcement.
The media had been rife with stories about the president's second wife, and family, and he was out to set the record straight, hence the extraordinary press briefing to tell the nation, and indeed the world that he had only one wife and one family.
"You know and I know and everybody else knows that I have only one dear wife, Lucy here... but the media keeps repeating about my having another wife or wives," a livid Kibaki said, with a visibly irritated Lucy standing next to him.
The woman who was being touted as President Kibaki's other wife, and a part of his second family, is Mary Wambui, who, in a strange twist of fate, became the MP for Othaya, the seat Kibaki had held for most of his political life.
Wambui won the seat when Kibaki left elective politics after serving two terms as president.
I am meeting the woman who was at the centre of that storm, Wambui, at her office in Lavington.  Watching her walk from her car and interact with her staff is a study in gracefulness and humility.
Dressed in a pink coat and black pair of trousers and still looking feminine, she cuts an image of a woman aware of her power, comfortable enough to embrace it, while illuminating those around her.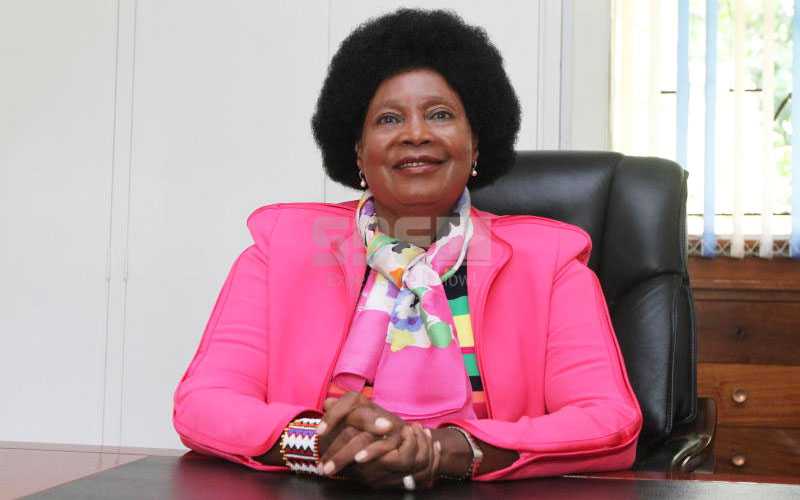 As soon as we are seated in the shade outside her office building, she turns to me, smiles indulgently, and asks if I am alright-then cues for the interview to start.
Mary meets Kibaki
Quickly noting the ring on her left hand that uncannily resembles the traditional wedding band; I waste no time and delve into the crux of the matter, her love life and alleged marriage to former President Mwai Kibaki.
She looks at me pointedly and just when I think I may be thrown out, she smiles.
"I met Kibaki a long time ago in Nanyuki, through his cousin who lived there. Also our paths crossed because I was a teacher and I would accompany the children to perform for the bigwigs during functions. Kibaki was a government minister then," she says.
What was her impression of him? I prod.
"He was an OK guy. He was doing things to help people. He paid school fees for many students. That impressed me. I like someone who can help strangers."
And they became fast friends.
How did the relationship evolve?
"You know how these things go," she admits coyly. Probably noting the blank expression on my face, she goes on. 
"Things happened unbidden. But, won't delve into it. That is a story for another day."
She has a set expression on her face but before I can let the matter rest, I have one more question.  If the media made up the story about her marital status.
"No, that is true. I am married. And that is all I will say about that. There are two things in life, your private life and public life. They are different. I do not want to talk about my private life. But I know I am married. Simple as that."
She explains why she remained largely unbothered by any talk in the public domain on her marital status.
"Why would I think about what people are going to say about it? I have confidence in myself and my God. He is my witness. I mind my business."
 And thus, we move on.
Aversions
Another thing Mary Wambui will not talk about is her age.  And no amount of internet clicks will sell her out.  Wambui, born in Othaya to a farm manager dad and a teacher mother admits that her family was far from wealthy.
"Mum would take me to the farms to help out. I even developed an aversion to coffee farms.  I cannot be a coffee farmer, can't stand it."
Though her mother died 18 years ago, her influence still reaches beyond her grave.
"The reason I have never tasted alcohol is because mum didn't approve of it. And I would never do anything she would scorn upon."
She enjoys a similarly close relationship with her daughter, Winnie Wangui.
"She is the one person in the whole world I am proudest of.  She is a true gem," she says with a wide smile. Wambui has four other children.
Completing high school education
Due to the lean times at home, Wambui didn't make it to high school. She dropped out and desperate to turn her fortunes around, began working as an untrained teacher at age 15. 
But 16 years ago, while an adult and a mother, and interestingly when Kibaki won the presidential elections, Wambui decided to go back to school.  
"I always wanted to complete school. It was my mother's wish that I go back when I could. And so I did."
In 2002, she moved to Nairobi and four years later, completed her high school education. She then enrolled for a higher diploma in an education course at the Straford Business School in London.
"Last year, I graduated from SMC University in Switzerland with a degree in Business Administration and Management," she says, beaming with pride. "I feel so happy now. I even want to go back for my Master's!"
Politics by chance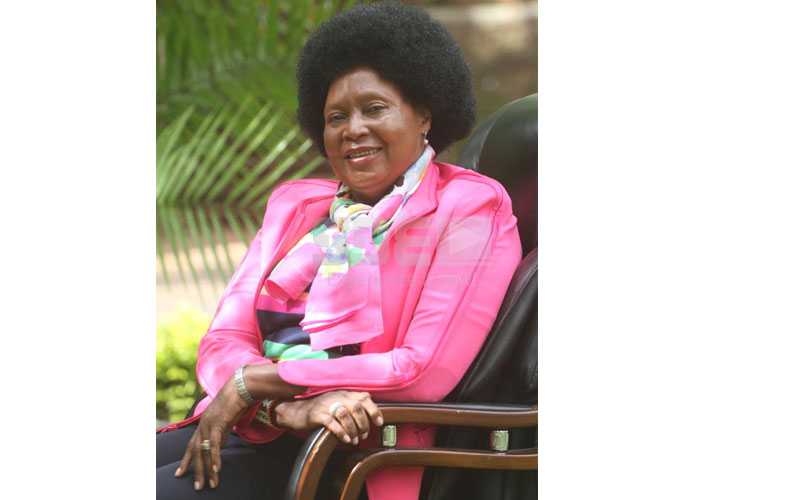 The move to Nairobi also brought many changes to her life.  She got into politics, a game she had never been interested in, and which she had become part of by chance.
"Several years ago, I was in Nyeri and decided to pass by the Highlands Soda factory to see how they   made the drink. The factory was near KANU party offices. As I was coming out of the factory, some
Wazees saw me and called me. They were conducting interviews for the KANU secretary position. I was only 21."
And she clinched the job, starting what was a long dalliance with politics. She would be featured prominently in Kibaki's parliamentary campaigns in Nyeri.
In 2013, she became the MP for Othaya Constituency, and though she lost the parliamentary seat to Gichuki Mugambi in 2017, she considers her tenure a good run.
"Just go to Othaya and talk to the people there. I am building a medical training centre and many schools.  I have also bought a machine for people to mill coffee and sell it abroad. My happiest moment will be when the hospital in Othaya is completed. Its construction began when Kibaki was president but I have been behind it all along."
And though she did enjoy her run, there were definitely some downtimes.
"I remember being so annoyed when the media reported that I sold government houses for some billions. I was so bitter about it because it was untrue but I asked God to fight my battles."
Her days now away from politics are idyllic, and she is immersing herself in the things she loves. 
"I get up at 4am, read my Bible, pray, and do some laps in the pool.  I am done with all that in two hours.  I then go to the office and do some work or go to my farm in Ol Kalou. In the evenings, I spend my time talking to my daughter then I retire to bed after watching the 9pm news."
Any regrets about her life?
"None at all, because whatever I do, I ask my God to help and guide me."
With that, the interview comes to a conclusion, and before she gets up to leave, she responds to a question that I had asked earlier, one she had obviously been mulling about. 
The one advice she could give to anyone.
"You can't keep crying about your lot in life. If you aren't rich, just accept yourself and work on being better."
And is she rich by her standards?
"I am not rich but I am getting my daily bread. And anyway, you are rich because you are alive."