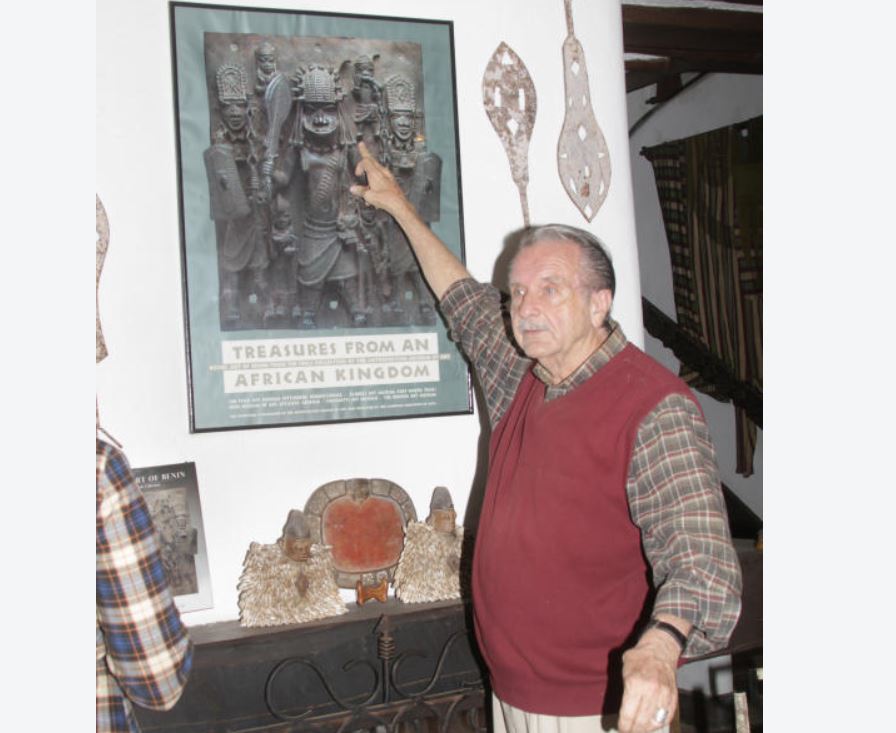 Veteran artist and cultural archivist Alan Donovan is dead.
According to a statement from African Heritage Estate management, Donovan, died peacefully in his sleep Sunday morning. He was aged 83.
He is among the last of the generation of white settlers, who had an entrenched interest in conserving and researching Kenyan history.
Together with former Vice President of Kenya, Joseph Murumbi' wife, Sheila Murumbi, they founded African Heritage, the first Pan African gallery in 1972.
The gallery boasts of the largest collection of Kenyan and African artefacts.
"Donovan played a unique role in the cultural affairs of Kenya and fostered the ideal of Pan-Africanism for more than 50 years. He has stayed in Africa through African Heritage, which he co-founded with the late former Vice President Joseph Murumbi and his wife the late Sheila Murumbi," said the statement from the African Heritage Estates.
Donavan is credited as a man, who spent his entire life documenting and telling stories of Africa, and this is evident in the many books he authored including; My Journey Through African Heritage, A Part Not Taken (written on behalf of Joseph Murumbi), An American in Africa and Black Beauty – a double volume work in progress that he was yet to complete.
Before his death, Donovan had planned to build a memorial house, Gurunsi, similar to the old Ghanain architecture that has been lost in modern civilization.
Further, his manager, Tom Otieno said Donovan had plans to set up a Centre for African Studies in collaboration with Strathmore University.
"Donovan was disturbed by the fact that foreigners knew more about African History, yet, the locals were clueless. He wanted to have a Centre of Excellence, where people from across the world, would come and study African history," said Otieno.
Otieno says that Donovan was disturbed after learning that his African Heritage House was under threat of demolition to pave way for the Mombasa–Nairobi Standard Gauge Railway.
"On this particular Sunday, a Chinese man in the company of police officers came to the African Heritage and planted a red flag at his gate. Upon enquiring, we were informed that the monument had been earmarked for demolition. Donovan was so shocked. He couldn't imagine what he had put together all these years, was suddenly coming to an end. For the first time, he fell sick. I had never seen him in that state," says Otieno.
Otieno says, Donovan, together with other cultural conservationists protested, and they managed to rescue the historical monument.
Several creatives, artists and historians mourned Donovan, describing him as a 'man with a big heart for history.'
"He was such a great cultural mind. A wonderful heart for the future of the culture of this country. Had a genuine love for cultural enrichment in this country. His death is such great loss," eulogised Ken Wakia, the Education and Culture Advisor at the US Embassy in Nairobi.
Cultural commentator Dr Joyce Nyairo said; "I hope someone, someday, soon, will be ready to tell the real Alan Donovan story..."
Donovan, who was born in Colorado in the US, never married and is survived by his sister Marylyn Cornish.