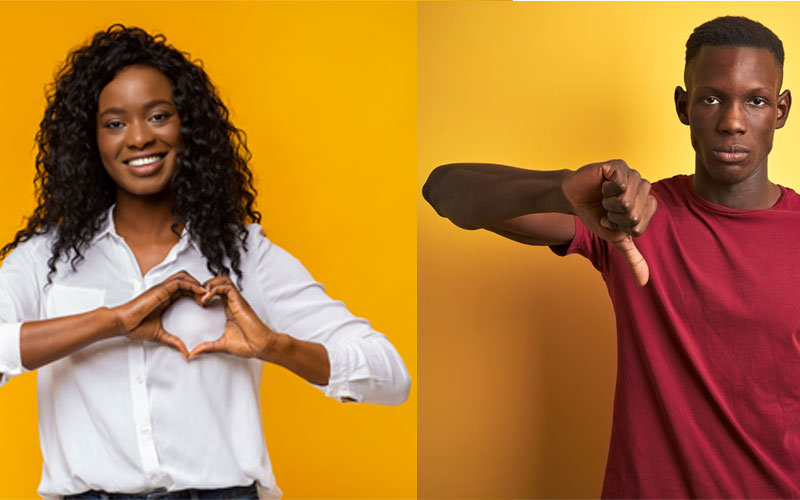 Valentine's Day is here. It's a paradox or sorts. Look, it's a day most women look forward to, yet an almost equal number of men dislike it.
Most men we spoke to dislike the day partly because they feel despite making a lot of efforts to make women happy and feel loved, what they get back is not commensurate.
So much so that there is a running joke on social media, with men in what looks like an anti-love movement, calling upon each other to attend some nebulous men's conference on 14th February!
"I am not looking forward to the day. Besides the day having been commercialised and with the economy doing badly, men always get a raw deal from their spouses," says Paul Indimuli, a city resident.
The 34-year-old complains that women expect presents, yet they are worse gifters.
He says men seem to have given up on love, seeing as most women nowadays fail the cost benefit analysis test.
"You buy her a pink Vitz and in return she buys you a belt! You dine and wine her every other weekend, only for her to gift you with a handkerchief. You pay her rent and all she gives in return is a neck tie," says Indimuli, insisting that we must have an all-male conference to discuss such injustices.
READ ALSO: Hilarious ways Kenyan men are trying to dump their girlfriends before Valentine
Could this be a wakeup call to women? Perhaps a protest of sorts from men, calling upon them to up their game?
You, nevertheless, have to marvel at how women have been warming up to the day.
Some are engaged in all kinds of antics, just so as to get treats from their men on Valentine's Day.
Most have been unusually nice, whilst others have been pushing the joke a bit too far by even apologising for mistakes they didn't commit.
"Babe, I'm sorry for the 2-0 loss your team, Manchester city got while playing against the struggling Tottenham FC the other weekend," some have been apologising, as if they had anything to do with it!
Besides the growing anti-love movement, some men still believe in Valentine's Day but are experiencing 'performance anxiety' of sorts.
They have no clue how they will make their women happy on the day. Partly because they are as broke. Others are not the romantic type and have no clue on how to navigate the day dedicated to love.
Crazy excuses to avoid the day
Some are in more than one active relationship and have no idea whom to give priority on the day. Others find the day grossly overrated and are now desperate for best excuses not to celebrate it.
"Unfortunately, sweetie I will be away in Mogadishu on assignment," they will say. Others have been moody, grumpy and desperate for the slightest of provocation to sulk and refuse to treat their women come Feb 14th.
"Baibe, I will fly down to Mombasa, just to be with you on Valentine's Day," a sly man will tease his woman early in the week, just to create the impression that the day will be awesome. But come midweek, he will be 'stranded' at his imaginary airport, then his plane will be delayed before getting cancelled!
Those without great excuses are afraid of the wrath of their women, if they do not treat the day with the seriousness it deserves.
"Some men plan to stage-manage illnesses, lie about being out of town for business trips or too busy with work to treat their women," says Jack Njine, 28, who says the day is overrated and is looking for an excuse to avoid it.
Some wish they get kidnapped by crooks today, only to be released the day after Valentine's Day.
So ladies, as you dreams of banquets of flowers, bars of chocolates, romance, a candlelight dinner and whatnot, consider yourself lucky if you will get a simple love card or romantic text message.
You only need to listen to men whine about love, to appreciate their hate and anger for February 14.
"We put up with a lot from our women. From their mood swings, nagging, their gossipy, chattering girlfriends, only for them to rave and rant over Valentine's Day gifts and treats," complains Paul Nyongesa, a 24-year-old city resident, when asked his views about Valentine's Day.
Men's agony as they try to please women
It's never easy for men. Even those who try to be nice and romantic, the flowers they buy and send to their lovers have to be better that all those sent to their colleagues in their office.
Never mind the timing is of the essence; the flowers must be delivered in the morning hours before her colleagues start showing off theirs.
READ ALSO: The 'anti-love' movement and its plans for valentine's day
"Men are always forced to unnecessarily achieve some dubious feats in the name of expressing love on this day. The chocolates must be delivered when still solid, never mind the near-boiling point temperatures the country is experiencing," says Nyongesa.
On this day, men go through hell. Besides having to dig deep in their pockets, they are expected to put their singing skills to test at Karaoke nights.
Never mind majority of them are horrible singers. Some have to call FM radios and request some soapy songs for their women.
"It is too much work. Ni rent tutalipa, ama ni kwenda kuharibu pesa kwa siku moja ya mapenzi? Some women don't even allow their men to give them the same gifts they brought them last year," whines 27-year-old Philip Kinyua, a banker who wishes the day was done away with.
He further complains about women and their high expectations.
Hear him: "Neither are we allowed to take them for dinner in the same places we frequent, even if their food and service is excellent. That calls for a lot of creativity, which should be channelled towards making money."
It is even worse if the day falls on a weekend, because in the evening men have to forego their hobbies and pastimes such as watching soccer, going for drinks and nyama choma sprees with friends to go treat their women to some quality time.
"This whole romantic dinner thing on Valentine's Day is about taking her somewhere in a quiet, dimly lit restaurant with soft music humming and purring in the background. Never mind these are men who are used to smoky, poorly lit locals where fights and noise are the order of the day," agonises Kinyua.
Wrath of ignoring Valentine's Day
On this day, men, who are used to t-shirts and jeans, are not only expected to blow their hard-earned cash, but also to squeeze themselves into uncomfortable tuxedos.
READ ALSO: Cheap treats: 15 best Valentine's Day gifts which don't cost a thing
Many men we spoke to are yet to understand why women put so much premium on this day that falls bang in the middle of the month, when they are broke. And so early in the year when many of them are yet to fully recover after the vagaries of January cash crunch.
It's sad that some men's annual mental and physical well-being is largely depended on how he treats his woman on this one day of the year.
"As a man, your access to conjugal pleasures throughout the year is directly proportional to the size, quality of gift and treat you give your woman on Valentine's Day. Failure to which, you get confined to year-long misery from her," says Gorge Ngani, 42-year-old city business man.
However, it's just not men; some single women in offices, where everyone is dating or married and gets flowers, are planning on how they can send themselves flowers and gifts, so as to be assumed to have romantic lovers.