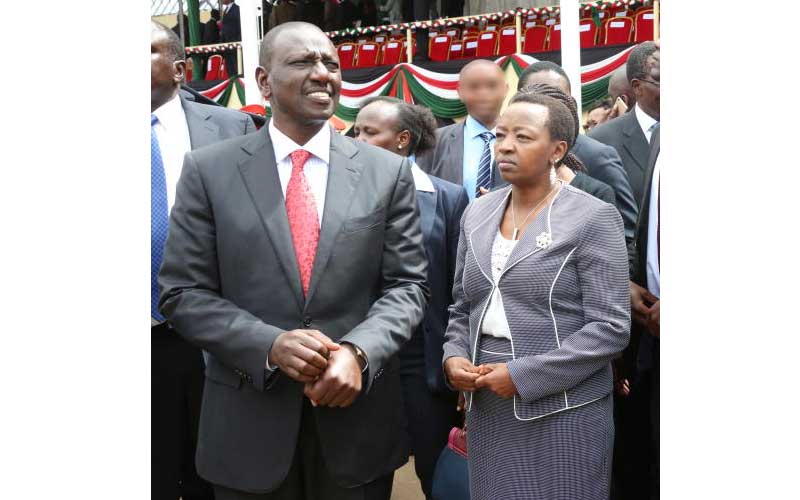 Deputy President William Ruto's wife Rachel has penned him a heartfelt birthday message.
Rachel took to Twitter on December 21 and wrote a message to her 'best friend' while also revealing that the day coincides with their anniversary.
Referring to the DP with his nickname Bill, Rachel thanked the DP for loving and supporting her.
"Happy Birthday Bill. My best friend and confidant. This day is special as we celebrate your birthday and our wedding anniversary.
"This far we have come all I can say is thank you. Nothing I can do can repay the amount of love and support you have shown, she wrote.
Dennis Itumbi, a DP supporter also sent the DP a birthday message, referring to him as a mentor and friend.
"Happy Birthday boss. You are a friend. A true friend… For 9 years you have always offered your guidance, mentorship and most importantly friendship. There are no ups and downs when it comes to you, you call, listen, admonish, share stories and each time any of us is down you call and literally cheer us up.
"I am happy to call you a friend, a practical mentor, a boss, my Deputy President and God willing the 5th President of The Republic of Kenya, part of his message read.
God bless you and Be with you both.
He who started a great and marvelous thing with you and brother Bill will never fail you. God bless and a Happy Birthday to Brother @WilliamsRuto — Seeker (@PAOtieno) December 21, 2019
This guy is sly. Managed to have the wedding on his birthday, hakuna mambo ya kuulizwa "Bill have you forgotten what day is today" — Helmut Herzsprung (@HelmutHertz) December 21, 2019
Happy birthday to H.E. William Ruto. Ni kweli watu hutoka mbali & the journey is still on.... — OmondiRampell (@OmondiRampell) December 21, 2019
DP: "I got a new name in the street, they call me BILLY..."

???????????? — I'm unable to KEN (@KamauKen95) December 21, 2019
Siku zile suti ilikuwa imemvaa...we all have been there...happy birthday sir. — shadrack musau (@denzelshady) December 21, 2019