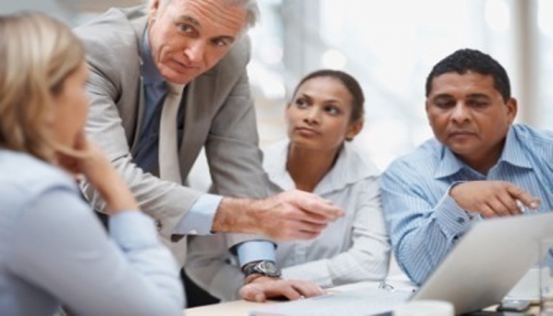 Breaking up is hard to do. You were the apple of your boss's eye, but she just announced she is leaving you for a new job at a different company.
Getting a new boss is rarely easy, but it can be even harder when your old boss was your biggest fan. How do you go on?
Starting from scratch
In an ideal world, your relationship with your old manager would easily transfer to the new one. But that probably isn't going to happen. "Consider all bets off even if your last boss loved you. You may have to prove yourself again," said Mary Schaefer, a Philadelphia-based career coach and trainer, in an email.
Getting off on the wrong foot can wreak havoc and even put your job at risk, according to Janet Scarborough-Civitelli, a vocational psychologist and career coach in Austin, Texas. "As soon as possible, find out the expectations of the new boss and make sure your priorities are aligned," she said in an email. "Get clarity about what your boss would like you to accomplish in the next 90 days. Avoid too much talk about the way things used to be. This is a new day."
To prepare for the new relationship, Schaefer suggests making note of what you liked about working with your former manager – and other bosses, too – as well as what you would have changed. Surprisingly, these mental notes may help you recreate what you loved about your previous working relationship. For example, if you loved his willingness to teach but disliked his tendency for over-explanation, having a clear image of what worked – and what didn't – will make it a lot easier when you sit down with your new boss for the first time.
Off on the right foot
The first day on a new job is tough for everyone —even a new manager. "Make a point to introduce yourself to the new boss on his/her first day. Make them feel welcome. Smile," said Ann Weiser, an instructor and Executive in Residence at the Darla Moore School of Business at The University of South Carolina, in an email.
"Be proactive" and provide them with helpful information to accelerate their acclimation into the new job. Weiser suggests to help them get started in their first week by sharing an organisation chart for your team, your CV and the resumes of your team members, plus a copy of your annual goals with their current status. Include a short, friendly note welcoming the new boss into the department.
Schedule a one-on-one
"Even if you do get along with the new boss at first, don't take anything for granted," said Schaefer. "In fact, this is a perfect time to get to know each other and get expectations out on the table while things are calm and steady."
Start scheduling a regular one-on-one meeting. Just avoid asking to meet during her busy first week on the job. Schaefer suggests using the appointment to cover the following: how your new manager likes to work (for example, what is considered an emergency that requires a call at home); what you can expect (for example, how she likes to deliver feedback and whether feedback from you is welcomed); and how the new manager sees your role.
"When you initiate a one-on-one discussion, you show that you are willing to do what it takes to earn more responsibility and advance; [are] taking charge of your career; and [are] interested in doing what's best for you, your boss and the organisation," said Schaefer.
Write it down
Lionel Ancelet, a Paris-based career coach, encourages his clients to keep a career diary. "Write, at least on a quarterly basis, ideally, every month, what your achievements were for the past period," he wrote in an email. "That way, you can document your claims with details." And when it's time for your monthly sit-down with your boss, you'll be better prepared to highlight your achievements. Plus, it will make updating your CV easier, said Ancelet.
Bosses have feelings, too
When it comes to senior management, it's easy to forget they have feelings and different styles of communication, too, said Ancelet. "Maybe he is a 'big picture' person, or maybe he likes to get into details. Maybe he is task-oriented, or on the contrary, relationship-oriented," he said. "At any rate, it is important to get to understand how his mind works, and be able to communicate with him on the same wavelength."
This doesn't require a personality test; instead, use keen observation. "Just listen to him, to what he emphasises, to the kind of questions he asks," said Ancelet. "If you can adapt your communication style to his, you can build trust."
What not to do
Avoid these common blunders
1. Don't moan about the company or former boss. "You don't want to do or say anything that will brand you as a negative or problem employee," said Weiser.
2. Don't get too personal. Safe questions: "How have your first few days gone?" and "Can I answer any questions about the company or the department?"
3. Avoid mixing work and play. Don't Facebook "friend" your new boss but do connect on LinkedIn, XING and Twitter.
4. Avoid overwhelming emails. Keep missives short and sweet. Use the subject line to specify what you need. "Be choosy as to what you send FYI," Schaefer said. "The new boss is probably already getting bombarded."