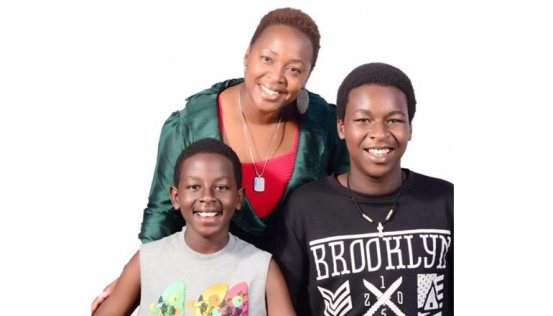 In 2010, Helen Kithinji resigned from her position as the General Manager of Faulu Kenya. It was the end of an era: a full stop at the end of the fifteen years she had served in the banking industry.
But it was also the beginning of a new chapter in her life. "Finally, I would be able to spend time with my children," she says delightfully.
When she tendered her resignation letter many people – from colleagues to friends – found it difficult to see sense in her actions.
Perhaps it could have been because her resignation came right after a dream promotion that promised a fatter cheque at the end of the month.
"The money was good but a fat cheque is not how I measure success," she says. "I was making good money but I was doing badly in other sectors of life."
Helen was looking for balance.
"The nature of my work meant that I did not have time to grow in other areas of my life. It denied me time to be a mother; to be a wife; to be a daughter, a sister and a friend."
The tipping point came when she realized that her two sons were growing in her absence.
The horror of waking up one day to teenagers detached from their mother's existence – hardened to the reality of their mother's absence in their lives; unruly and emotionally out of balance – was too much to bear.
Alice Sakina, also a mother of two, recalls her own tipping point in February 2016.
"I was leaving home for my regular week-long assignments out of town. My son cried himself hoarse. He wouldn't stop but there was nothing much I could do except to ask his nanny to pacify him," Alice says.
She did make it to her destination: Eldoret town. But hardly had she settled down when she received a call from her husband with a frightening message.
Her son, Mike, suffered a fever overnight and had to be rushed to the hospital the following morning. Doctors assessed the boy and admitted him; it turned out he needed closer monitoring.
"A day was yet to go by and I was already travelling back to Nairobi," she says. "I asked myself, 'what if I spend more time with my sons at home?' For the first time it hit me just how absent I had been from my children's lives," she says.
But even before that awful incident, Alice recalls she was never quite at peace with leaving her boys [now five and three] with a nanny – a stranger she paid for those services.
"I always had this uncomfortable feeling inside me; it never felt okay leaving them every day. Something was telling me that I needed to spend time with them. With a demanding job like mine I didn't know how it was going to be possible," she explains.
Alice's position – pharmaceutical technologist – was the only stumbling block to her wishes. For two weeks, the first and the last weeks of the month, she would be away from her family attending to work duties. And so, in April, two months later, she ran her thoughts by her husband.
"I told him that I did not feel like being away from the kids was helping much. I wanted to be home to watch over them."
To her surprise, her husband too was growing weary of the status quo. He wondered whether both of them being away from the kids inflicted some damage on their wellbeing.
"We agreed that I would resign and become a stay-at-home mum," Alice says.
Her resignation letter was delivered in May. By June she was home – a full-time mother.
Those first days were tough but after a while the whole family adapted.
And there was an extra reason to smile, she says. Her house girl, the person she had bestowed the responsibility to watch over her sons while she was not home, and who had over time become unruly and rude, was leaving her household.
She wondered how her full-time-mother days would pan out. However, just like a new-born calf goes straight to suckling, she slipped into it seamlessly.
"I bathed them, spent time with them, played with them, helped my eldest son do his homework and took him to school too," Alice says.
"My son has improved greatly in school. I was called to his school and asked what I was doing with him – because all of a sudden he could read and write."
All she could say was, "I resigned to be home with him".
For both Helen and Alice, leaving work to spend more time as mothers had some positive results. Both benefitted from the stability of their families and the much-needed backing of their husbands.
Helen agrees that it would be foolhardy to just up and leave work. She had a plan when she was leaving. "I am an entrepreneur. When I left banking I became an executive coach. I also started a travel firm – which I conveniently run from my laptop," she says.
Her company, a franchise of the multinational WorldVentures, has given her the flexibility she hunkered for and a source of living to supplement for her family's needs.
Helen, like Alice, noticed a remarkable improvement in her sons' performance in school when she became more available. She also says she became healthier – going from frequent visits to the doctor to no visit in the last six years – and enjoyed life.
"Before, I made lots of money but couldn't enjoy having it. Now, I make lots of money and I am also able to be a mother: my family is happier and I am enjoying life," she says.
Alice believes she can 'sacrifice' time to be a mother to her two sons now and return to her career later when "the boys have grown up and won't need their mother's constant presence."