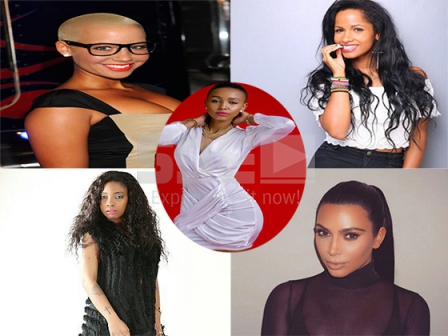 From being considered as the diamond in the rough to the independent polished self, these ladies have turned their break-ups (and make-ups) into money-minting careers proving that dating a celebrity is the fastest way to boost your celebrity status.
Amber Rose
Before she was all over the Internet teaching other girls on how to be a bad bi***, Amber Rose was only known to us as the chic who was always on Kanye's arm on the red carpets. Her bald look and curvaceous body quickly caught the attention of those watching and within no time she was all up in music videos being the vixen that she is, consequently working with some of the greats such as Fabulous and Wiz Khalifa.
The now actress, model and known public figure Amber has attracted endorsement deals from many high-profile brands, including Smirnoff Vodka in 2011 and accrued millions in royalties for appearing in music videos and reality shows.
Huddah Monroe
The controversial socialite has had tongues wagging since her debut on the entertainment scene thanks to the self-proclaimed king of bling Prezzo. Although we couldn't quite call it dating, the duo became the centre of attention after photos surfaced online pitting the two as lovers.
In a media interview, Huddah would call prezzo 'the best lover she ever had'. Prezzo catapulted Huddah's popularity and amid her appearing in various music videos.
Karrueche Tran
Truth be told little was known about actress Karrueche Tran before she dated Grammy winner and internationally acclaimed singer Chris Brown. Whereas we would like to think that the beautiful lass was already working on some projects before dating the rapper, it's no secret that her phone got busier than a drug dealer's with the addition of Chris Brown to the equation. After all, in the entertainment business, who you are seen will definitely bring businesses calling.
This 'ugly' truth reared its head after the actress got into a heated online spat with Brown where the latter said, "Ok Miss Tran, I wish u the most successful career ever! But I promise you this, once this "TALENT" you have starts to simmer, so will everyone else including Jacob, all your famous friends know u how? How? How? How? How? ... Ok. So to end this petty game that's gonna allow u to book more club appearances and "MOVIES" that go straight to DVD I'll leave you this <3!"
Shantel Grazioli
Where there are two there's probably love but this is a phenomenon we already know between the two love birds Shantel and Eric Omondi. The pair that first came out in public at the Safaricom Live festival last year constantly feed off each other, which has seen Graziolli gradually rise as a fan favourite among Kenyans. The Kenyan-Italian model is constantly featured on Eric's Instagram page which is clearly paying off seeing that she hosted a huge show at the beginning of the year dubbed Shantel's Red and Black Party thanks to her boyfriend. We are sure that it's just the beginning of great things for Shantel as she settles with the man of her dreams.
Bridget Shigadi
With her Yedu clothing line having gotten a lifeline, the model burst into the limelight after word got out that she was dating TV personality Nick Mutuma. Nick had been a fan favourite after featuring in Shuga series as well other local productions and music videos. The eye candy diva was only known in certain circles but their connection elevated her to greater heights. Bridget who was in her early twenties before the break up in 2013, managed to stay in the lime light with her clothing line doing great.
Kim Kardashian
Despite coming from a celebrity background Kim caught the world's attention after a sex tape of her and music star Ray J surfaced online. The then model cum video vixen would later twist the whole debacle to her advantage landing interviews with GQ and VOGUE magazines. As if it wasn't enough, Kanye came along and propelled her status to one of the revered celebrities.
At one point Kanye even compared the wife – Kim - to Mitchell Obama, which despite being met with criticism from the public and Obama showed exactly how highly he thought of Kim.
Kim is currently worth billions thanks to her reality TV shows, modelling and YouTube views... and ooh yes being Kanye's wife.
Joy Kendi
The sassy diva, blogger and model has clearly established a niche for herself in the Kenyan fashion industry and we cannot take anything away from her. Having appeared in the Changing Times series produced by Phillip Bresson, it is safe to say that the two hit it off on set. She hasn't disappointed and she continues slaying in her fashion sense. She's currently scriptwriting in the new TV series New Beginnings alongside Phillip Bresson.
Pendo
'Everything goes' seems to be the mantra of the reality actor Pendo who made her way to 'the top' after her controversial involvement with Gospel Musician Willy Paul. The socialite was introduced to Pulsers back in 2013 after she claimed that she was dating the musician.