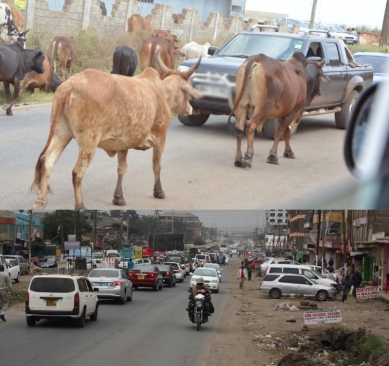 A property consultant says the Maasai of Kajiado County will become landless in a few years.
"For them (Maasai), it will be history. Kajiado is being swallowed by Nairobi. Kajiado is now Nairobi and the grandchildren of the current Maasai generation will only read in history books that this used to be their home," says David Kinuthia.
Real estate development, educational institutions, tree plantations and irrigated farms have taken over the land where wildlife and countless herds of cattle roamed in most parts of the county.
The demand for land and 'fresh air' by Nairobians has seen most land companies and cooperative societies pitch tent in the area, leading to the sky-rocketing of prices.
Moses Mpae recalls when the construction boom started in Kitengela area as people shifted from Nairobi: "In 1999, we had only a few shops here in Kitengela. I could not imagine it could grow to be such a big town."
Mpae recalls that an acre of land was going for about Sh10,000. Today, one must part with not less than Sh2 million, depending on the location and proximity to Athi-River-Namanga highway.
Many families were attracted by the millions 'changing lives' in the area and started selling their land, piece by piece.
"Almost every family has sold a piece of land in this area. The money has been too tempting," said Thomas Legeny, a boda boda rider in Kitengela.
He said like him, several young men convinced their parents to sell land for them to raise capital for business. But he knows about five of his friends who are now watchmen in Nairobi after their businesses collapsed.
"They (friends) could not manage their money. I remember my friend Lembui who is a watchman in South B was given about Sh500,000 for their five acres, but I don't know what he did with the money. He opened a small shop in Isinya, which closed after a few months. He had to run and hide his face in Nairobi," he said.
He thinks the money from land sales in the area is cursed. Legeng says he bought a Toyota Probox after selling their eight-acre piece of land in Kitengela but he never made any meaningful profit from the car he had converted to a taxi.
"Hii pesa ya mashamba ni kama iko na dawa. Inapotea tu! Hata ukinunua kitu yeyote inapotea tu hivyo (the money from selling land is cursed. You can never benefit from it. It just disappears)," he says.
He said he sold his car after having a mechanical breakdown that required an engine overhaul.
"I sold the car for Sh200,000. I bought myself this motorcycle because I could see the cash disappearing into the air," he says, his face wrinkled with pain.
 Kajiado County Council of Elders Chair Stanley ole Shelalu blames the young men for deceiving their parents to sell their land. He says the community has been forced to seek alternative means of livelihood since the scramble has drastically reduced grazing grounds.
"They have sold almost all the land here. We used to keep cows but there is nowhere to graze anymore," he said.
Kajiado Governor David Nkedianye last year banned land transactions in the county to protect land owned by the Maasai for posterity.
Kajiado North MP Moses ole Sakuda says he is concerned by the large number of young men selling their land to investors.
"We have huge chunks of land in Kajiado. Although I would like to see investors coming in, it is not good to sell all the land. We need traders to boost our economy since we are relying mostly on livestock," said the MP.
Asked if the situation could see the community abandon livestock keeping in future, the MP said the Maasai were spread all the way to Tanzania and often drive their animals to the neighbouring country to graze.
"We don't have a boundary as Maasai. We will still keep our animals and graze in Tanzania when necessary. We are brothers," he said.