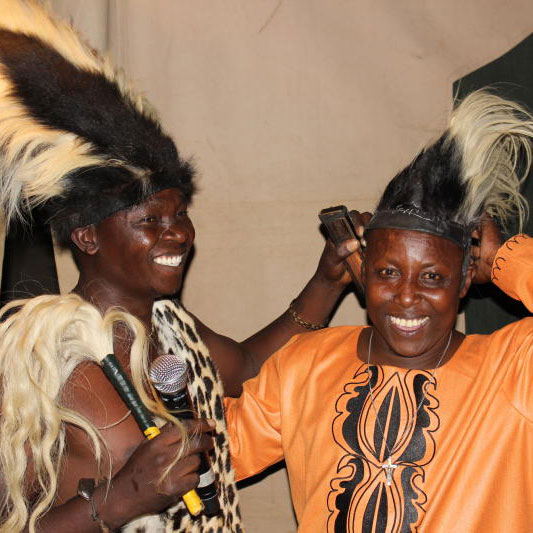 Ohangla sensation Osogo winyo(left) flanked with Tony Nyadundo before perfomance atthe Carnivore restaurant in Nairobi. Photo by WILLIS AWANDU/STANDARD
A local television station continues to expose exactly what goes on in the minds of most Kenyan musicians.
The channel has helped us know that, however much we write about and support our music, nothing will happen till the day Kenyan singers decide to make very good use of their heads.
In choosing to do so, perhaps our singers will have discovered that all world music as we know it, relies on twisting and re-doing the melodies of every culture's 'old' songs.
I suspect the key to Kenyan music has been partly hidden inside the room of that discovery.
A few of our singers know the secret. I think the following people continue to make the best use of their heads: Western Commandoes Success Band (they gave us 'Mukhangala'), Dela, Elani, Eric Wainaina, Sauti Sol, Osogo Winyo and all ohangla singers, Gargar, Olith Ratego, Diwani Nzaro, Ayub Ogada, Doris Chepchumba, Jabali Africa, Idi Achieng, Kidis, Suzanna Owiyo, Makadem, Chikuze, Susumila and a host of other Coastal singers. Singer Harry Kimani is not left behind.
All the above voices and a few others seem to realise musical tradition is not a star that you pluck from the sky but rather, you dig it up from under the soles of your feet till you reach the fossils of what was sung by those who went before you.
That is the path DR Congo, Nigeria, Uganda, Tanzania, Senegal, Gambia, Ethiopia Mali, and South Africa are treading.
And because there is no new music under the sun, the logic is simple: if you do not dig up the music of your own pioneers, then most likely you will try to ape and exhume the bones of what other people's pioneers did.
Unfortunately the latter is the case around Kenya's capital. If you told a singer born around Nairobi to find out more about Joseph Kamaru, JB Maina, Bana Sungusia, Sukuma Bin Ongaro, Olima Anditi or Freshly Mwamburi, they tell you they have the freedom to sing whatever they choose.
This is true but to an extent. American music is not new nut to build her musical identity, Beyonce Knowles has had to cross the Atlantic Ocean several centuries in her mind, to the time her great-grandparents floated on that water in a ship from West Africa.
Tanzanian music is not new. One Mr Nice conquered East Africa with a song called Fagilia in the early 2000. But the song had already been sung by Tanzania's Mwenge Jazz in the early 1970s.
The Congolese Ferre Gola continues to build his music empire by wholly relying on a single melody he cleverly fused from TPOK Jazz's Makambo Ezali Minene.I am reading a document authored by Doug Patterson which states that part of the trouble with Kenyan music is that some of our earliest bands; both at the Coast and in Nairobi, began as entertainers of white people at international hotels.
So Fadhili Williams, Adolph Banyoro, Peter Tsotsi, Nashil Pichen, Charles Ssongo, Daudi Kabaka and Gabriel Omollo, initially belted out 'African Twist' at the then Equator Sound Band to appeal to the largely Western audiences. That is understandable.
The situation is today completely different. I don't understand why broad-chested Kenyan men still think they can only sing rap, reggae and hip-hop. W
hy Kenyan women must only sing like Rihanna is something even they themselves might not clearly explain.
As for reggae, perhaps the only answer I might receive from a smiling, dread-locked Kenyan is this: "Because my president loves reggae". But the truth is that the future of Kenyan music is hidden in pioneer songs such as Malaika, Mama Mukoya, Helule Helule, Pole Musa and countless other Kenyan songs which our parents could not resist.
Related Topics