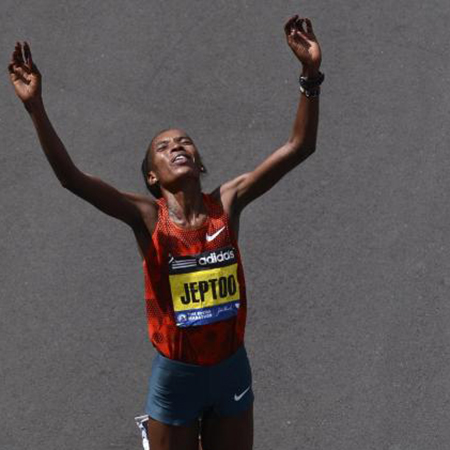 Eldoret, the capital of Kenyan athletics and home of the world's long and middle distance runners, is bleeding. Do our champions win because they run or do they run because they dope?
National Olympic Committee of Kenya (NOCK) Chairman Kipchoge Keino says both World Anti-Doping Agency (WADA) and International Olympic Committee (IOC) could soon ban Kenya from international competitions.
Keino, in an interview with sister paper, The Standard, said top officials from the two bodies were already contemplating sanctions if Kenya does not act decisively to curb doping.
"They are asking what steps has the government taken since the task force submitted its report. They are saying Jamaica, which was cited alongside Kenya, has made decisive steps to tackle the problem, but no news is coming from Kenya. They are not happy," Keino told The Standard.
What exactly is going on? Who is to blame? Athletes, coaches, agents or Athletics Kenya (AK)?
On November 17, 2013, marathon star Rita Jeptoo, who failed a doping test last week told The Nairobian she was fed up with rumours making rounds that her athletics prowess was due to drugs.
"Hiyo maneno nimesikia ikitembea tembea kuhusu mimi. Nimesikia watu wengi wakisema kwamba, my group (Rosa's athletes) tunatumia ma dawa, ati tunaenda huko tunadungwa (I have heard those rumours – that athletes in my camp use drugs; that we go to Europe and get injected with drugs). I have been a runner for a long time, but no white man has come and told me I want to take you to Europe so that this or that can be done. We only go to Europe for treatment and receive medical care through insurance," said Rita.
As usual, the blame game is on. But a legendary athlete, now retired, says it is possible for athletes to get involved in doping without their knowledge.
Doping without knowledge
"Some of these foreigners who mushroom around in the name of experts are rumoured to be secretly administering banned substances through food supplements," said the athlete who did not want to be named.
Billy Konchellah, a former 800-metre runner who won two World Championship gold medals in Rome 1987 and Tokyo 1991, also says chances of athletes doping without knowledge cannot be ruled out. In his analysis, doping is very technical and can only be administered by professional medical practitioners.
"In such a case, there must be somebody close to the athletes who perhaps is doing this without the athlete's knowledge. The coaches must tell us the truth, because it is not practical for one agent to handle over 90 athletes at the same time," Konchelah said.
Professor Moni Wekesa, the man who chaired the 12-man anti-doping task force, believes Kenya has deliberately failed to stop doping in the country.
He told this writer he is not surprised that Rita's 'A' sample in an out-of-competition drug test in Kenya was positive for erythropoietin (EPO), a human growth hormone.
In their report, the Prof Wekesa-led Kenya Anti-Doping Probe Committee states that all the sports federations in Kenya participated in the probe except AK who "refused to cooperate." The report further blames AK for failing to carry out anti-doping awareness for athletes in the grassroots, as well as failing to effectively control the influx of foreign agents in the country.
"These are things that we raised in our report earlier this year. AK must stop living in denial, doping is here with us. We have mortgaged our athletes to foreign agents who in turn do anything they like or want with the athletes as AK watches. Let no one lie to you that our athletes dope outside the country. Doping is done here in Eldoret and Kapsabet," Prof Wekesa said.
Prof Wekesa's comments were echoed by Konchellah, who said that AK is fully aware of what is going on.
"It is common knowledge that there is a renowned chemist in Eldoret who supplies the drugs, but no one is doing anything about it. How can they point fingers at a specific agent, only to give him a permit the following day?" posed Konchellah.
Rita becomes the third Kenyan athlete under Berardelli to test positive after Mathew Kisorio and Jemima Sumgong, whose two-year ban was terminated after an appeal. After serving his ban, Kisorio tried in vain to rejoin Berardelli's group, but the Italian rejected his advances, saying that he wants nothing to do with a convicted doper.
The Italian also made it clear that Rita should carry her own cross, saying that he is not to blame for doping cases.
"I am not to blame. I see what is going on in Kenya, how many athletes have been caught? I don't think agents are behind it. I think they are doing this on their own volition. [Berardelli and I] know we are completely innocent. I would not be here if I had anything to hide. I would not come to the press conference to talk to you," Rosa told reporters at a New York City Marathon press conference.