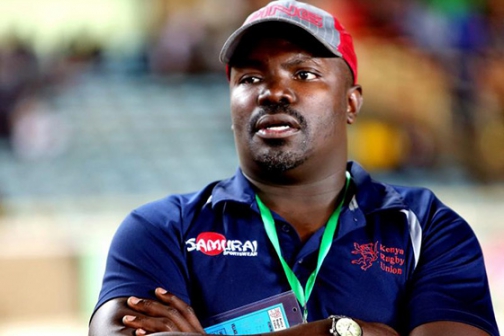 Rugby Sevens coach Benjamin Ayimba will go down in history books as the man who won the 2016 Singapore Sevens after thrashing Fiji 30-7 to bring the coveted cup home. It is no mean feat.
But did you know that Ayimba's rugby journey reads like that of the biblical Israel when they left Egypt? May be not, as many Kenyans — save for his recent win in Singapore — remember him as a man who was fired as the Sevens coach in 2011.
The former old boy of Olympic Primary School in Nairobi, according to one of his teachers, tried his hand (and legs) in anything sports.
After completing his studies at Olympic, Ayimba joined Maseno School in Nyanza, where he met a teacher, one Mr Jeam Agutu, then the Deputy Principal at Maseno School.
According to Agutu, Ayimba was an all-round sportsman who flirted with many games.
"He participated and won in track and field events. He even took part in 100m and 200m sprints, as well as the 800m race. He was also in the long jump and triple jump team, not to mention the school soccer team," says Agutu.
"His main focus was however rugby. Ayimba was awarded the accolade of 'Overall Best Athlete' during his final year at Maseno School," adds Agutu who is also credited with mentoring Gor Mahia's Enoch Agwanda and Collins Omondi of Posta Rangers — during their days at Koderobara High School in Rongo.
When Ayimba completed his high school, he was already ripe for recruitment into the big clubs.
He would soon find himself playing for Impala RFC and a subsequent call up to the national team followed. The rest, as they say is history.
Ayimba has a polished demeanour and is easy to read.
He has the will, and mettle to succeed against odds, traits he has built since his childhood days and later teenage years.
He received the all-important shot in the arm when Kenya Rugby Union (KRU) Chairman Richard Omwela reinstated him as coach to do what he loves and knows best. He did not disappoint as was evident in the Hong Kong and triumphant Singapore tours.
During his days as a player, he had a winning mentality, especially after reaching similar finals in the late 1990s. And today, Ayimba, whose son Brian has decided to follow in his Rugby Sevens footsteps (see photo) has proved to Kenya, and the world, that he is better than expatriate coaches like Mike Friday and Paul Treu who were contracted to breathe life into the Sevens team. He wields the magic wand that nobody paid attention to until Omwela came to office.
It is interesting how the man with a cool mien could achieve this much in a game that is seen as elitists.
The answer, it seems, is in his DNA.
Ayimba comes from a sporting family. His cousin Dr Zacheus Omondi — while still a medicine student - was a midfielder in the then Kenya Breweries team (now Tusker FC) that reached the finals of the Africa Club Champions Cup.
But Ayimba certainly takes pride in the fact that rugby is a cool game — the fans are not rowdy even though alcohol is a normal accompaniment in the terraces.
And we rarely hear about rugby fans throwing stones or attacking referees — the referees are actually a spoilt lot compared to Kenya's soccer referees.
Unlike soccer fans, rugby followers are not familiar with the stinging fumes of teargas lobbed by anti-riot police to disperse unruly fans. The players too are well-behaved and simple, which is why when asked how they won the Singapore tournament, they first thanked God before paying tribute to former players whom they acknowledged for blazing the trail for them.
Like the game of golf, rugby rules and culture makes one a gentleman or lady. They say that rugby is a game of thugs played by gentlemen, while soccer is a game of gentlemen played by thugs. This is why Ayimba could be seen hugging his mother as he shed tears of triumph, for his country Kenya at JKIA after his team arrived from a tour that saw them beat champions Fiji.