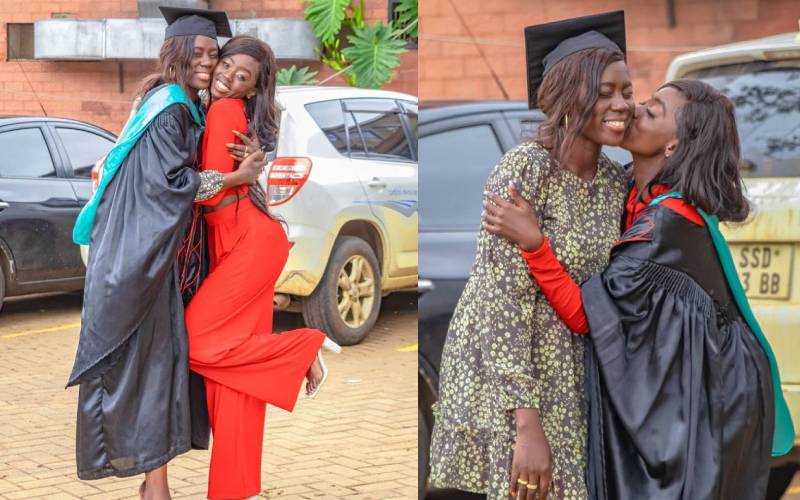 Model and actress Celine Okello, aka Rue Baby, has cancelled her graduation party for the sake of her mother's ill-health, singer Akothee.
Taking to Instagram, Rue Baby said that the event, which was scheduled to take place this Saturday, would not happen until her mother got better.
"Akothee this is addressed to you. I know it comes as a surprise but you are not well yawa mama ni. Can someone just help me tie her up so that she gets better first .. we can always do party later," wrote Rue Baby.
Moved by her daughter's gesture, Akothee said she tried reaching out to Rue Baby since she did not inform her of the decision to cancel the graduation party. However, the recent graduate declined her mother's calls and only resorted to text messages, wishing her a quick recovery.
"One of my most difficult children! You cannot dictate to her, she does her things her way, and it must be done her way! Just like that this i***t postponed her graduation ceremony without telling me! She ain't picking my calls, only texting mum get well soon first," wrote Akothee.
"Get well soon first! So can someone tell Rue Baby to kindly give us another date of her preference then? I want to celebrate her in a big way, Rue Baby asayi nyakwar ma, these are the only personal ceremonies for me."
Akothee celebrated her daughter after attaining her first degree from Strathmore University and lauded her for being trustworthy and responsible.
The Abebo hitmaker heaped praises on Rue Baby, stating that she is reliable and made parenting easy.
"Congratulations my darling, you made parenting easy for me, you understood the assignment... If God asks me for another bunch of kids, I will still choose you and your siblings.
"I have no idea where this school called Strathmore is! I do not even know the account details nor the bank they bank with… I just transfer money into your account with the hope you will either choose to spend or pay for your future," wrote Akothee.
Earlier this week, Akothee explained the cause of her recent weight gain, saying she is battling a health condition and has been spending days in hospital.
She further cautioned people approaching her with the weight gain conversation, explaining that she has struggled with sleepless nights.
"Do not meet me and start telling me how fat I am, I am having a health condition, I am swollen due to struggling with sleepless nights of pain. I am afraid to go to bed for I wake up with numbness on my fingers, this situation is scary for me," she wrote.