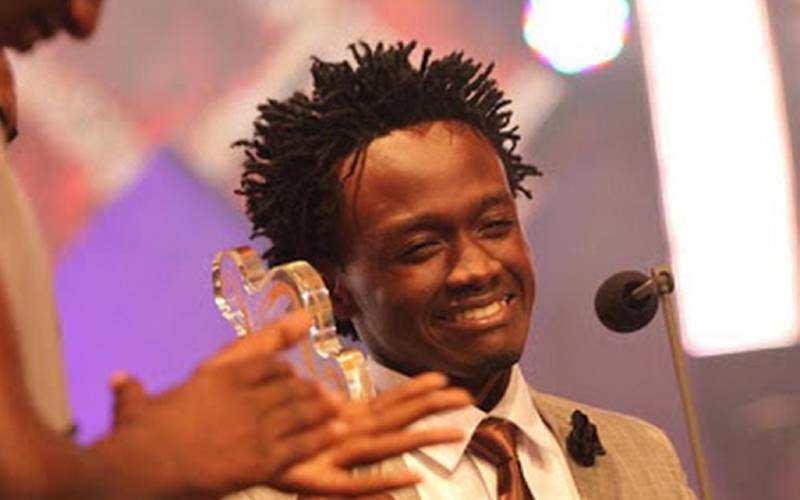 Singer Bahati has finally responded to an old video of himself doing rounds on social media in which he had promised to serve God forever.
In the video, a teary Bahati is seen lifting his trophy during his speech at the Groove Awards 2015, vowing to always be by God's side and never leaving him.
 "I promise, and I promise before the world that God I will never leave you."
Because of the singers drastic music switch, netizens found it necessary to tag him in the video in an attempt to remind him of his promise.
In response, Bahati wrote a short prayer to God assuring Him that he was still on His side despite everything that has taken place in his career.
The Wanani crooner added that God knew why he made the decision to step away from the gospel industry and knows his heart.
"Dear God!!! .... I have seen people send and tag me to this video. But because Father you know my heart and reasons you know this is still me. This are still my words and you know I have never changed," he wrote.
Bahati's letter validates his previous remarks in a YouTube video shared on his channel where he stated that he will no longer be associated with the gospel industry but will never seize serving God.
"I was fought a lot in the gospel industry so when I do a gospel song, I do it for God, not for the people. I just separated myself from the Gospel industry for a while, but I'm in Christ and the Lord is my personal saviour. I think right now Wanani is the most played song in the country, and it's because it requested for by secular and gospel fans because I'm still a son of Christ," said Bahati. Bahati's revelation comes a few months after announcing the closure of his gospel music record label, Eastlands Most Beloved (EMB)," he said.
Pulling controversy
The Eastlands Most Beloved (EMB) Records CEO has been making headline for the last couple of weeks following his album launch and details surrounding it.
For one of his music video shoots Bahati was spotted smoking cigar, a move that resulted in his contract termination with the Kenya Film Classification Board.
According to the KFCB Boss, Dr. Ezekiel Mutua, Bahati breeched their contract of putting out clean content.
"This week @InfoKfcb cancelled over 200k cash and other kind support to musician @BahatiKenya following the posting of videos, which contravened our clean content and partnership policy. Our team decided to cancel the support and disassociate completely with the planned event," announced Dr. Mutua via twitter.
Soon after, the singer launched his album Love like this cover and a section of netizens were not pleased by the cover picture. A few online users felt that Bahati went to the extreme with the cover considering his gospel background.