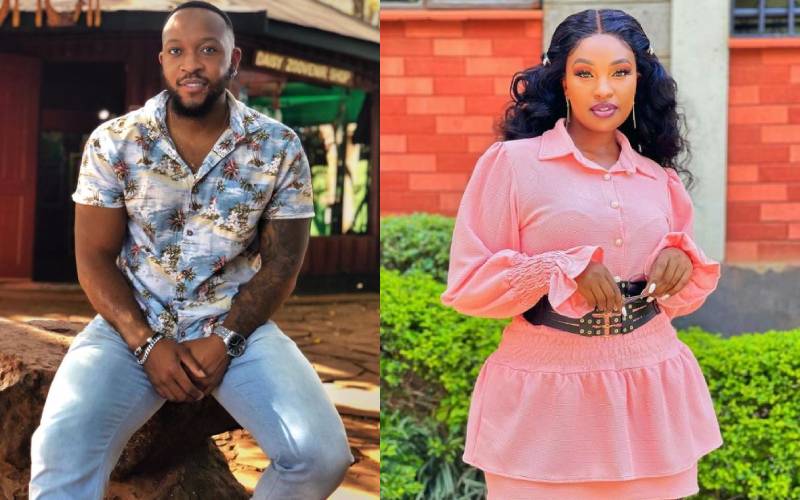 Celebrity fitness trainer Frankie Kiarie aka Frankie Just GymIt, on Mother's day, took to social media to celebrate the important women in his life, including his ex and mother of his two firstborn sons, YouTuber Maureen Waititu.
Frankie began by thanking his mother and current girlfriend Corazon Kwamboka for their unconditional love and care in the appreciation message post.
"Mother's Day is celebrated every year to appreciate the efforts a mother puts in for her child. I'd like to appreciate the mother's in my life. To my mother, there's nothing like a mother's love to give us all the strength we need to succeed. Thanks for everything, Mom. Happy Mother's Day.
"To Corazon, I'm thankful to have you in my life. You transformed my imperfections into perfections, my weakness to strength. I know Tai will definitely benefit from that wisdom and patience so he can grow to be a great man. Let's continue this thing called life together. Happy Mother's Day," he wrote.
Frankie wished Maureen a happy Mother's day, noting that she remains an amazing mother to their two beautiful sons, despite their differences.
"To Maureen; throughout the years, we created lasting memories and above all that, beautiful boys. Lexi and Kai are the best gift you've given me and even-though we have our differences, you still remain a good mother. Happy Mother's Day," he added.
Maureen is yet to respond to his message.
Fallout 
About six months ago, Maureen did a YouTube video addressing the father of her kids after she was accused of preventing him from seeing them.
In the video, the former Minji Minji show host explained that she only stopped Frankie from seeing the kids when her youngest son was sick. However, Maureen says Frankie stormed out instead of understanding.
After the incident, Maureen explained that Frankie stopped sending money for his kids' upkeep and consequently asking them to vacate the house they had been staying in, which belonged to his mother.
"I told him he couldn't take the kids today, and even before I could tell him Kai was unwell, he stormed off, and I had to follow him and tried to block him, asking for us to talk, but he did nothing. He just sat in his car, and he was on the phone before finally telling me, 'you are going to hear from my lawyers.' That's where the narrative began that I have stopped him from seeing his kids; I'm blocking him from seeing his kids.
"He called me on 26th of August, this was on a Tuesday, and he specifically told me, 'I am no longer going to send money because I cannot see my kids as often as I want to'. True enough he stopped sending money for his children's upkeep till now. On the 7th of September, 2020 I can't forget that phone call. He picked up his phone, called me again with the same narrative that since he is providing shelter and cannot see his kids as often as he wants to, he wants us to move out."
In response Frankie stated that he tried everything to be there for his kids but was blocked off most times.
"I've been through a lot. I was being treated like a nanny with my kids. Each week there's a different reason why I shouldn't see the kids," said Frankie.