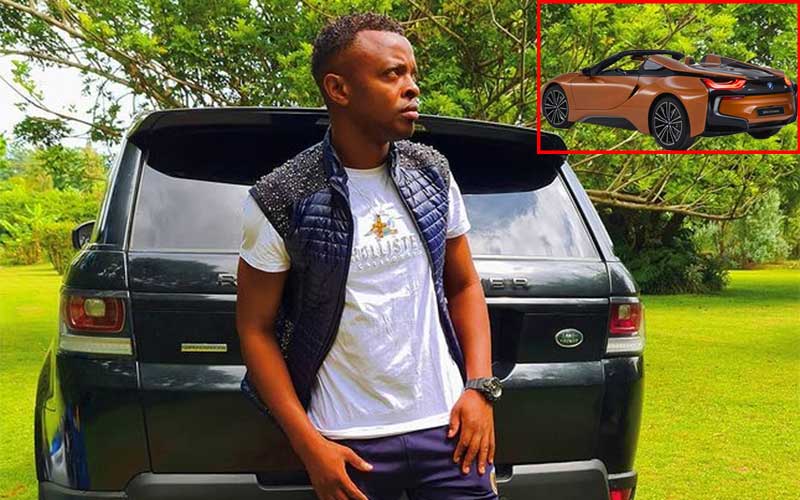 Gospel musician Ringtone Apoko says he does not have the money to buy his dream car, a BMW i8. The singer tells Standard Entertainment & Lifestyle that he believes God will perform a 'miracle' and he'll own the Sh14 million (excluding tax and importation fee) hybrid sports car.
"I don't have the money to buy the car but I trust God will perform a miracle- I urge Kenyans to help me in praying for the vehicle," he says via phone. 
Ringtone previously made headlines after warning he will hurt himself if his dream of owning the vehicle is not realized in a week.
READ ALSO: Reactions to Ringtone's 'Sh26 million' Range Rover
"My God who's my father must give me my BMWi8 in 1 week or else..." he wrote in part five days ago. 
Snubbed
According to Ringtone, his desire to own the vehicle was fuelled when businessman Kevin Mulei, the owner of Kenya's only i8 refused to rent it out to him for a video shoot. Ringtone perceived the rejection as being looked down upon and swore to own the vehicle. 
"I first saw the car with Kevin Mulei of Groove Awards and NRG Radio. I tried to borrow it for a video shoot but he ignored me, perhaps since he's the only one with the car in Kenya. I reckoned he refused to give me the car maybe because he despised me. I'm not that rich but my heavenly father is and I decided to fast and pray for a miracle."
Street kids
The singer who was once a street kid further says that once he purchases the vehicle, he plans on letting street children sit in it for a day.  
READ ALSO: Ringtone's Sh60 million house
"When I get the car I will take it to town and give it to the street kids so they can sit inside and have a feel of it because at some point I was just like them… I have many cars but I just wanted a sports car. It's a good thing for God's people to have fun sometimes," says the singer who has owned a Toyota Celica, Nissan Patrol and Range Rover Vogue over the years.
On why he constantly bashes current and former gospel musicians, Ringtone claims "Willy Paul and Bahati are thieves. The joined the gospel music industry and sold their stories, Kenyans empathized with them and when they got rich, they ran away. They conned God."