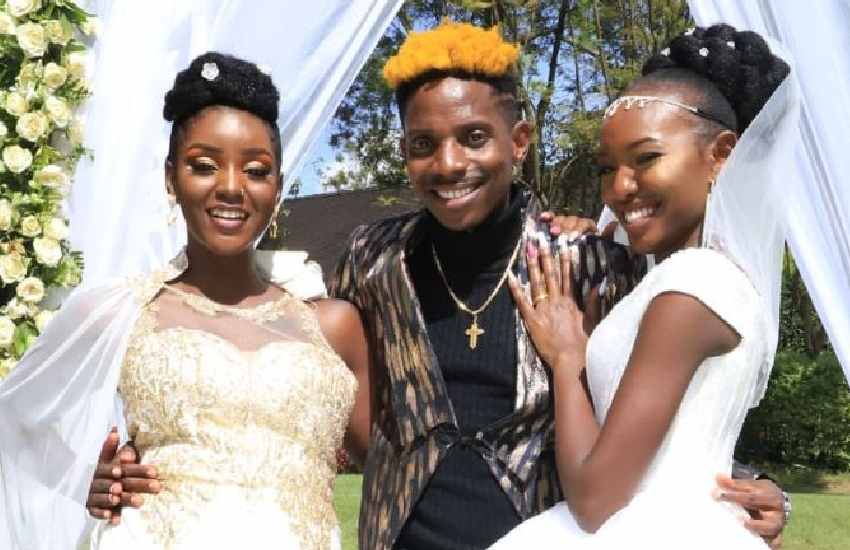 Self-styled 'President of Comedy Africa', Eric Omondi, is under fire after revealing his show, Wife Material, was scripted. Revealing the news on social media, the Big Tyme Entertainment CEO disclosed that his much-publicized wife-search show was choreographed. "Disclaimer: Wife Material was a choreographed and scripted entertainment show," read part of his post.  
The former Churchill Show comedian went further to appreciate all participants of the show stating that the program was a taste of what Big Tyme Entertainment and Eric Omondi Studio had to offer.
"Good morning guys!!! I want to take this opportunity to thank you from the bottom of my heart for supporting the show #WifeMaterial. My heartfelt gratitude to all the ladies who participated in the show. I love you guys and appreciate you so much.  We did this show to give you just a small taste of what Big Tyme Entertainment and Eric Omondi Studios has in store for you," he wrote.
Read Also: Ringtone offers Eric Omondi's 'Wife Material' show contestants 100k each to quit the show
A section of highly invested online users were, however, not impressed by the comedian's decision to 'trick them into helping him find a wife when, in fact, he was just promoting his hustle'.  @Paulohunnid: "So carol is really not your wife." @Mjaka.dior, "Everything for clout." "But it never added value either way... The president should do better," added @Maina_edwins. @Fridah_kairanya, "Stop kissing girls for comedy, it is not fair that you are using them." "I Was on my Knees praying to God to give you long life with Carol. I rebuked any interference including that of Shakila……  Aaaaaaaah, give me back my prayer @ericomondi," @Nycewanjeri went on. @Guyohalkish: "So this means Shakilla is really not pregnant? You really toyed with us.
Mutua asks for Omondi's arrest
About two weeks ago, the Kenya Film and Classification Board CEO, Dr Ezekiel Mutua, called upon the Directorate of Criminal Investigations (DCI) to arrest Omondi for running a 'devilish mentorship program'.
"So there's Corona but this fool has been kissing multiple girls and recording these videos in the name of comedy. Another morally bankrupt socialite is recording more videos teaching these young girls how to have sex with Omondi in the devilish mentorship program known as "Mombasa Raha." The facility in Lavington that was opened with hype ostensibly as a studio is nothing short of a brothel," stated Mutua.
"It's a place where girls are being sexually abused and degraded in the name of art. The fact that women rights groups are quiet when this is happening and the police have not arrested the perpetrators of these obvious crimes is evidence of how low we have sunk as a society. By the time we get tired and stop condoning this nonsense the damage will be too bad to repair. The DCI should immediately move into that brothel in Lavington and arrest the criminals doing these things to our girls in the name of art!"
Read Also: Ezekiel Mutua wants Eric Omondi investigated after 'Wife Material' show comes to an end
Located in Lavington, Eric Omondi Studio was launched on November 17, 2020, in honour of legendary artists who made an impact in the entertainment industry. He was, however, served with a notice to vacate the premises a few days after opening on grounds that his studio would cause noise disturbance.