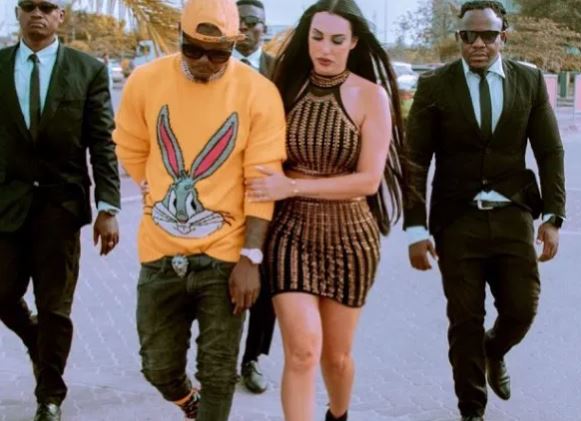 Roughly a month after calling their relationship quits, Sarah Michelotti, Tanzanian singer Harmonize's wife, has hinted at the musician not being lucky enough to find another woman who will match the love and care she selflessly showed him.
Expressing her thoughts on social media, the Tanzanian model explained that a man is blessed with a good woman only once in his lifetime. However, if the man makes the mistake of taking his woman for granted, he might not get a second chance to experience true love.
"No lie ... some women are irreplaceable. Like the things she do for you and the feelings she had and showed you… you may never experience it again," she wrote.
Addressing their break up in a separate post, Sarah admitted that despite being taken advantage of by her husband, she has gradually learned a lot from the experience and hopes to heal and grow into a better person.
ALSO READ: End of the road for Harmonize and Sarah? Singer's wife pens break up message
"When someone lies to you, it's because they don't respect you enough to be honest, and they think you are too stupid not to know the difference. We learn, we heal, we grow," she said.  
The Italian beauty's post comes hardly a week after the Konde Music Worldwide CEO confirmed their split through his Instagram stories. In the post, Harmonize explained that he had more time to be with his daughter Zureha Nasra, whom he had neglected for one year and seven months.
"Starting single life today! Officially just me and @zuuh_Konde 2021, let me see," wrote Harmonize.
The couple's social media brawl began after the UNO singer publicly admitted to fathering a child out of wedlock and hiding her existence from his wife for fear of breaking his union.
Not long after getting news of Harmonize's confession, Sarah called out the singer for desperately wanting to care for a child he did not bear with proof of paternity tests that showed he was not Zureha's biological father.
ALSO READ: You are not the father! Sarah Michelotti blasts husband Harmonize
"You've done a DNA test twice on the baby and the results came back negative, showing that you're not the father. But since you've failed to father a child of your own you are now claiming someone else's baby… I loved you for the person I thought you were, I gave you all the happiness which you failed to reciprocate," she said.
I respect Harmonize
Despite their online feud, Sarah cautioned rumour mongers against making up stories about their relationship, adding that she still respects Harmonize.
"If there's anyone out there using our misunderstandings for their own benefits, I want them to know that is very wrong. I even had a script to some people from the industry insulting him and is not the first time I guess. Tanzania is my second home, I can't hurt anyone since I respect each of you. You are my family and whatever happens, is for a reason maybe was not God's plan, maybe we just need a space for some time or is forever gone, but I will always respect him, please take note," she said.
However, the former lovebird's fans are convinced they will reconcile and get back together because they have had similar arguments before.