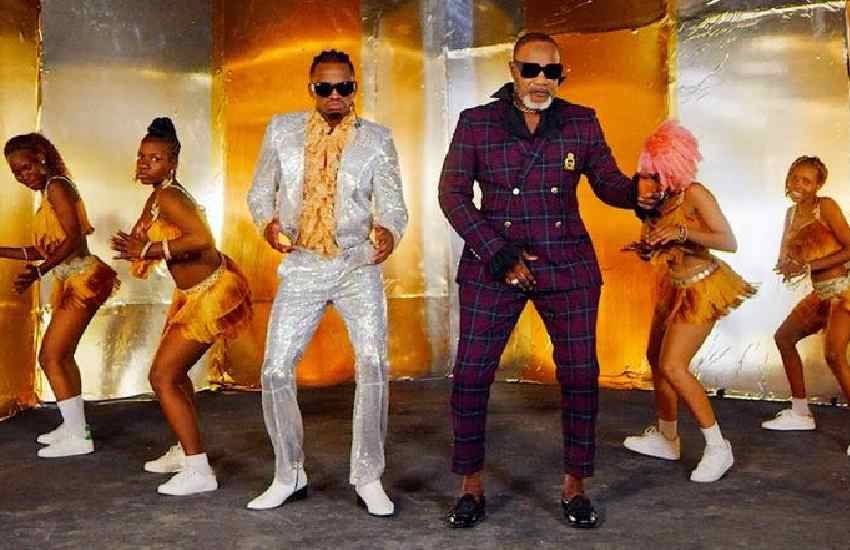 There was a lot of excitement in entertainment circles when news filtered in that two of Africa's good musicians had teamed up for a collabo. And when the song was officially launched, Tanzania's Diamond Platnumz and Democratic Republic of Congo's Koffi Olomide did not disappoint.
Read Also: Diamond Platnumz hits the studio with daughter for upcoming song
The refreshing video, Waah, released this week has already passed the six million YouTube views mark, a record for any East African music video. It has been trending at number one, toppling other hits like Size 8 Reborn and Rose Muhando's newly released Vice Versa song. With the views going up by the hours, it is clear fans cannot have enough of this fusion of bongo and rhumba.
Diamond employs tactical creativity with his energetic dancers and captivating voice. It's rather genius how he blends Lingala with Swahili with ease to create this song. Antoine Agbepa Mumba aka Koffi Olomide at 64, blends into the song effortlessly, gracefully matching the 31-year-old Diamond's energy. With Diamond playing the lead, Koffi jells in as the king of Lingala in this song.
In this love song, Diamond expresses feelings to his lover. "Papa mobimba…Ngwasuma…Dangote…" is almost all Olomide says till he belts to the refrain, which he executes with artistic finesse roping Diamond in as if to hand over a legend's baton. The song, produced by Tanzania's Lizer Classic production company and whose video has been directed Kenny under Zoom Extra, is one of the big songs to be released in Africa this year.
"Thank you so much my beloved fans for the record of one million YouTube viewers within eight hours… it means a lot to me…It was more than an honour welcoming Godfather, King and our African icon, Boss ya Mboka Koffi Olomide last night... .Trust me, the world better be ready for my album!" Diamond said on social media after the song's release.
Read Also: Diamond Platnumz reveals challenges he faced shooting 'Waah' with Koffi
Koffi also showered praises on Diamond. "I am happy to meet the King of the country, Diamond, and I'm here to work with him, to do something to amaze Africa and the world and I am sure that it will be a big success," Koffi had teased two weeks to the launch. "My language is music, his language is music, so expect something big," Koffi said on social media.
Even though the collabo wins Koffi younger fans, it is more of an endorsement for Diamond who has been positioning himself as Africa's new generation star. Strategically, the multiple-award winner has been sending signals in music circles that he is the celebrity to watch in Africa. Last month, the singer hit international headlines after Grammy award-winning singer Alicia Keys applauded him for working with her on a new album titled 'Alicia'. "I also love that Diamond was part of this, an amazing Tanzanian artiste, who happens to come in and bless this track with his unique style. I love how the worlds collide here. This is like world music collision at its finest," Alicia said.
Positive reviews about the Koffi-Diamond collabo have started streaming in. "With the Koffi Olomide collabo, Diamond is trying to send a message out there that he is the new star to beat in Africa," said J Blessing, a Kenyan producer and director who has worked with Koffi in a number of projects both in Kenya and DRC. "You hardly see Koffi who is the King of rhumba work on collaborations with artistes outside his circles and for him to accept this Diamond call, it almost would mean he is endorsing him as an African star to succeed him. After all, he is already calling him 'king'."
Read Also: Masters Degree? 10 interesting things you did not know about Koffi
According to J Blessing, Diamond has already become a big name in West and East Africa, having worked with the biggest artistes in Nigeria, DRC and Kenya. All he needs now is consistency in making quality productions and more hits to claim the mantle as Africa's the best male singer of our time.