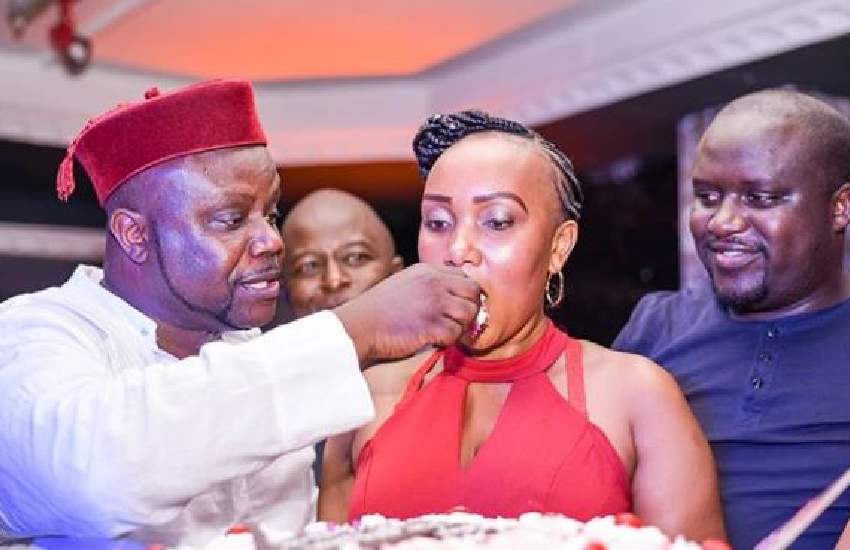 Nairobi-based Burundian musician Jean-Pierre Nimbona popularly known as Kidum on August 6, 2020, showered his wife Josephine Mugure with praise as she celebrated her birthday. In his message to the mother of two, Kidum revealed that she was a critical pillar in his life at a time when he was feeling low and about to give up on everything.
"Happy birthday my bibi yangu. You are the only person who rescued me when I was about to give up on everything and on everybody. Happy birthday my dear sweetheart," he wrote. The two met in 2010 after a concert at a popular city joint, wedded in 2012 and welcomed their first child, daughter Nicole, in 2015 and Kidum Junior in 2019.
Read Also: Singer Kidum gets saved and is baptized by Gloria Muliro's ex-husband Pastor Eric Omba
Speaking to People Daily six months after Junior's birth, Mugure revealed that her family was at first sceptical of their relationship. "My family did not support the relationship. They believed musicians have bad reputations. They also judged him by his failed marriages and asked what I would do differently to make our marriage work that the other women did not. They were also worried I had no idea what raising children means," she said.
Mugure noted that whilst they have been living as a blended family from the start, she chose not to start her own before establishing a bond with five other children from his previous relationships. "I got married to Kidum in 2012 when the youngest child was five years old and in nursery school, fourth child was in Class Two, the third in Class Five and the second born in Class Six. I have been raising the children as if they were my own.  We blended well as I am always interested in everything they do. My first child was born three years after we got married. I did not want to rush into getting babies before establishing a relationship with our other children," she added.
She pointed out that he is a responsible husband and father who has tirelessly worked hard for the betterment of his family. "Kidum has never given his baby mamas the burden of raising his children. He is a responsible father, provides for them and they all go to good schools. Kidum will do anything to be with his children. Burundians believe children belong to their father. He always lets them visit their mothers with everything taken care of. His eldest child is 24 years old and lives and works in the US. Kidum made arrangements for him to go there so he can support his mother back home," said Mugure.
Signing off, the Bungoma native said she values her privacy and has deliberately over the years shied away from the limelight save for splashes on social media such as when news of Junior's birth broke. "I value my privacy. Once people get to know about you, you lose your life. I'd rather live a normal life, such that if I walked or jumped onto a nduthi while running an errand, I don't get people talking. People, sometimes, can get so judgmental and not all of us have shock absorbers to handle Internet trolls. I am comfortable being his wife and mother to his children. I don't enjoy being famous."
Read Also:Yes, I have seven children but two with my wife – Kidum clarifies
In an interview with the Standard, Kidum revealed that when his career took off after settling at Kakuma Refugee Camp on fleeing the 1995 violence in Burundi, it was hard to strike a balance between his then young family with the promising career.  "I met my first wife when I was still a refugee. She was also a refugee.  We stayed together for five years after which we separated. When I went back home to Burundi I met my second wife whom we stayed together for 10 years and then we separated. At this point, my music had started picking up and it was a little bit difficult to balance between career and family. I am with my third wife," said the Mapenzi crooner.