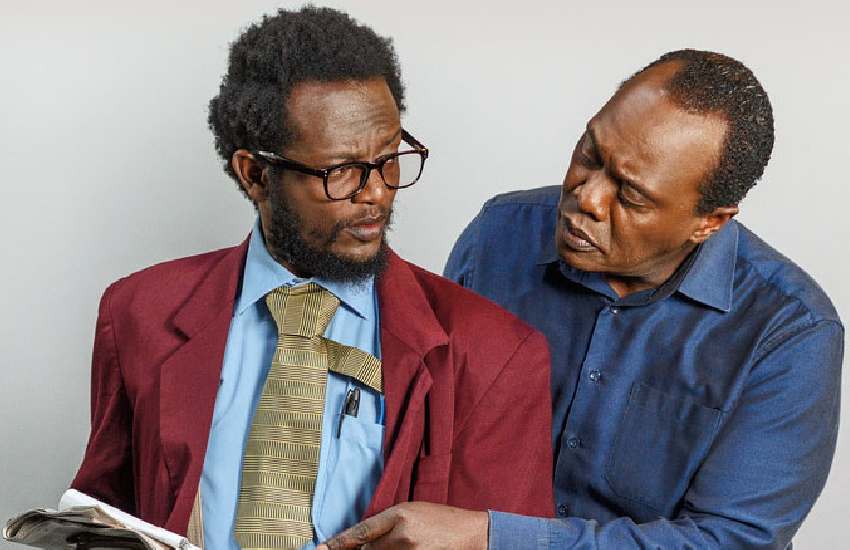 On Monday, July 20, 2020, popular media personality Jeff Koinange left netizens in shock after revealing that he had tested positive for Covid-19. "Folks, just to let you know, I have tested positive for Covid-19. I'm doing good...NO symptoms...and my family is fine. All my close contacts have been informed. Right now I'm in self-isolation. Many thanks to Royal Media Services Management for its support. Stay safe and God bless!" he wrote.
Following precautionary measures put in place by the Ministry of Health, comedian cum radio presenter, Herman Kago aka Professor Hamo underwent Covid-19 tests to determine whether he also contracted the virus since he hosts a morning radio show on Hot 96 alongside Koinange. Luckily for Harmo, the test results came back negative. The comic shared the news on his social media assuring his fans that he was in good health and revealed that his colleague, Koinange, was doing well.
Read Also: I go broke sometimes - The untold story of TV personality Jeff Koinange
"My brother is doing great thanks for all the messages and phone calls I'm telling you he's getting his hair done and practising his bass. I tested negative and I'm safe. Let's find time and get the test so that we fight this virus," he shared. Another Hot 96 radio presenter, Teddy Eugene, who also came into contact with the media personality revealed that he had undergone tests and the results turned out negative. "Get Well Soon Boss. You got this Koinange Jeff. To those asking I tested negative," wrote Eugene.
According to social media personality Xtian Dela, Koinange needs to be accorded space and ample time to recover fully. "To those asking, @koinangejeff is fine. He is asymptomatic. Very healthy and full of life. Been speaking to him and all is well. He has gone into isolation and his phones are off. Please let's give him time to fully recover and get back to what he does best!!! Bro!!! We are beating Covid! Nothing and I mean nothing can bring you down," he wrote. With the rising number of Covid-19 cases in the country, several entities are taking precautionary measures to ensure their customers and employees are safe. Radio Africa Group recently held a mass testing at Lions Place in Westlands, Nairobi where several staff members were tested.
Read Also: Comedian Professor Hamo lands mega-deal worth millions
Linda Nyangweso advocated for netizens to speak more about Corona and sensitize each other on the virus. "I mean I'm glad we were able to do this right. It is important that as many get tested and we start to talk about it and normalize it," she said. "I have tested twice before but this is my most significant one because I have had contact. It's uncomfortable but it's the smartest thing you can do and I said this earlier, if you work for an organization that is willing to do this for you, take the test," added Caroline Mutoko.