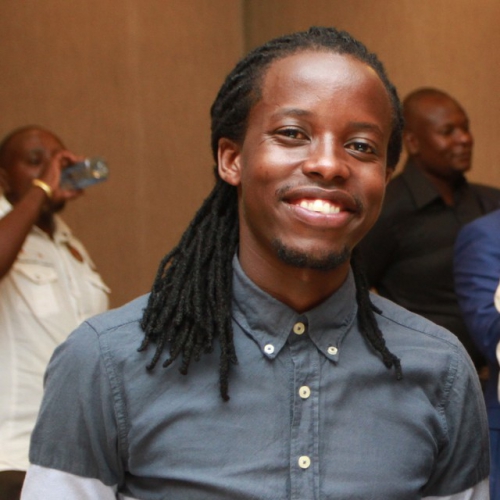 By Njambi Mungai (@njambie)
We have to admit we had a certain preconception of the creator and executive director of Young Rich, Eugene Mbugua; he was only so happy to prove us terribly off mark. The small framed, dreadlocked, soft spoken and tattooed genius took our surprise with grace. A sign that he was used to surprising people as far as first impressions are concerned.
But his brilliance, passion, drive and innovative mind topped off with a crazy sense of humor proved that this 24-year-old millionaire deserved all the accolades and success he is currently experiencing.
He is currently the managing director of Young Rich Television Limited and has been named in Business Daily's Top 40 under 40.
SDE: So Eugene how did it all begin?
Eugene: When I was leaving high school, I was convinced I was going to be an accountant. When I think about it, I would have been a miserable accountant. Around that period when I was waiting to join university, I fell in love with production and content creation when I played an extra on Inspekta Mwala. Afterwards I became a boom swinger trainee for free, holding the boom swing for about 9 hours a day, which gave me quite the insights on film making and production.
My friend Peter and I formed our first company where we would go to schools teaching them about film making and all things video production. While we had no formal training, we would go to the internet and research about film and video production, borrow equipment from friends and armed with our little experience as extras, we were able to sign up quite a lot of schools.
SDE: You carried this on through campus?
Eugene: After 2 years, I got bored and due to the fact that I had a lot of time in my hands while at USIU, I decided to get into business. Since many students including myself loved playing video games, I started a video arcade called the Game Court where students could while away the hours before or after their classes. It was a very good gig and I think the arcade is still alive, I sold it to a guy after I left school.
SDE: How did the concept of Young Rich come about?
Eugene: *laughs* It is a concept that came from a selfish need. I wanted to know how to be rich. Way back when I was teaching in Makini, I was very broke and would walk all the way from town through Riara road which is lined with nice apartments and young guys driving nice cars. It dawned on me that these people knew how to make money, we also just needed to know how. I thought that if I could show other people how you can make money while still being young, the youth would be able to turn their skills into riches.
I went and researched and wrote a script which I sent to all the TV stations to no response. My persistence finally landed me a spot on K24.
SDE: Was the success of Young Rich show unprecedented?
Eugene: I can say that it filled a need in the market. So many young people want to know how to be rich hence the popularity. It opened up business doors for me. I am the biggest student of Young Rich and even more humbled when people contact me saying that the show opened their eyes and have managed to turn their skills into business.
SDE: What is the future of Young Rich show
Eugene: We just completed 90 episodes of the show but we are now on a break. We want to rethink and revamp it. We also recently rolled out Get in the Kitchen which is airing on K24 as well and 6 more productions in the pipeline.
SDE: Challenges that you have faced in your journey?
Eugene: Many people point to capital as a major challenge which is, but I was very resourceful when starting out. What I did not have, I would use my networks and find alternative ways of getting things done.
I would have to say my greatest challenge is my first impression. People rule me out when they first see me, which means I have to really turn my charm on especially when courting potential sponsors and investors.
I also need to point out that many traditional TV stations are not very open to analytical or thought provoking shows unless they are talk shows.
SDE: We got to ask, for the ladies of course, are you single?
Eugene: *laughs* yes I am single. Let's leave it at that.
SDE: What are your future aspirations?
Eugene: *sighs* So much pressure for a 24-year-old. I am trying to revolutionize content in this country. For the longest time I think we have the wrong perception of who the heroes are. Currently the only celebrities are politicians yet there are young people doing great things; our athletes, people making a difference in the society among others. I would like to change the societal mindset of Kenyans and Africa in general.
SDE: Who inspires you?
Eugene: Dennis Makori is my business mentor, he is the co-founder and CEO of Onfon Media. Internationally would be Steve Jobs, Richard Branson. Incidentally film makers don't inspire me much because I am fascinated by business than film making. I am not in the TV industry; I am in the TV business.
SDE: What word of advice would you give the youth who are looking into getting into TV like you?
Eugene: While formal institutions do not offer in-depth training on film and TV production, there is more exposure with the access of internet and cheaper technology. It would be lazy to blame universities and colleges for your lack of skills while you can get on youtube and learn a skill. When you have initiative and drive, anything is possible. Don't make excuses, make it happen.
SDE: Tell us something many people don't know about Eugene
Eugene: I live with 10 fish and 4 plants. 8 fish died so I have only 2 left. The plants are also dying, I was so sure I am nurturing. I have given them all my care; I am convinced that it's the plants and fishes that have a problem.