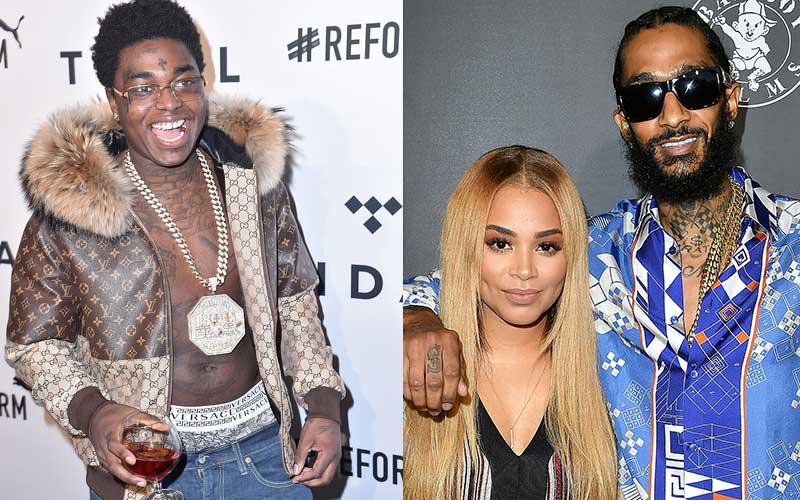 Rapper Kodak Black is facing backlash following comments he made regarding Nipsey Hussle's girlfriend, Lauren London.
Hussle was gunned down on March 31 near his Los Angeles clothing store.
On Saturday, Kodak talked about London during an Instagram live and said he would "be the best man I can be for her."
The rapper added that he'd give her "a whole year" to grieve for Nipsey.
"She might need a whole year to be crying and s*** for him," said the rapper.
Yuck. Kodak Black is disgusting & makes ignorant comments almost daily. Lauren London is mourning the death of her soulmate & the father of her child less than a week ago & you're talking about shooting your shot w/ a widow? Like you even stand a chance ???? pic.twitter.com/qMzcWqbHBD — WellTheTruthIs (@truth_well) April 6, 2019
Kodak's comments attracted the ire of fellow rappers TI and The Game as his music was banned from a prominent LA radio station following the comments.
The rappers recorded profanity-laced videos bashing Kodak.
"You outta pocket n****," a visible angry T.I. said.
TI has a message for Kodak Black regarding his comments about Lauren London and Nipsey Hussle pic.twitter.com/Aad9bslqSF — BallerAlert (@balleralert) April 6, 2019
The Game calls out "Kodak Black" responses to his live discussion about 1-3 years for Lauren London to grieve before shooting a alley hoop pic.twitter.com/qviLvL4sUb — Meek Mill (@MeekMill_MMG_DC) April 7, 2019
Following the backlash, Kodak offered an apology of sorts on Sunday saying, "If I disrespected you Lauren London in any shape or form, I am sorry…Even though I didn't."
Kodak Black says he apologizes to Lauren London if he offended her ???? @KodakBlack1k@LaurenLondonpic.twitter.com/Da37SYu96p — WORLDSTARHIPHOP (@WORLDSTAR) April 7, 2019
London is yet to publicly speak on Kodak's comments.