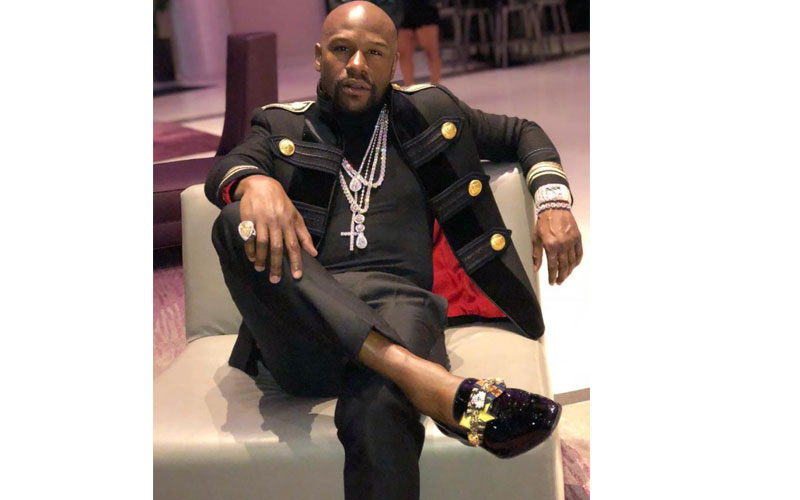 How much can you spent on jewellery at a go? Well, American professional boxing promoter and professional boxer Floyd Mayweather Jr, splurged a whooping Sh530 Million to update his jewellery collection.
According to reports, Mayweather bought a 30-carat pear-shaped VVS ring for £1.8m (Sh236 million) and a 3-4.5 ct. diamond bracelet for a mere £1.9m (Sh249 million)
He also splashed another £390,000 (Sh51 million) on a two-pound yellow gold Cuban necklace and three watches.
The big spend comes a month after Floyd purchased a mega-mansion in Las Vegas for £7.8m (Sh1.02 billion) and showed-off a £13.75m (Sh1.8 billion) diamond-encrusted watch at an NBA game.
Ahead of his much anticipated match in Japan on New Year's Eve, Mayweather claimed he'll make a fortune for fighting Tenshin Nasukawa.
 "How much am I getting for this exhibition? If I do it, it will be the highest paid exhibition ever. Just for promoting this event, so far, I have made seven figures," he said.
He also added that he is due to make "nine figures" when he faces UFC lightweight champion Khabib Nurmagomedov in a boxing match.
"When I face Khabib, of course I'm getting a nine-figure payday. It's more than the McGregor fight - probably a hundred million dollars more guaranteed."
November is the hustle month and we are all about youngins making their money, and we need your help. Do you know of any young person in school/campus who is running a hustle that absolutely deserves to be celebrated? Drop us an email on: [email protected]