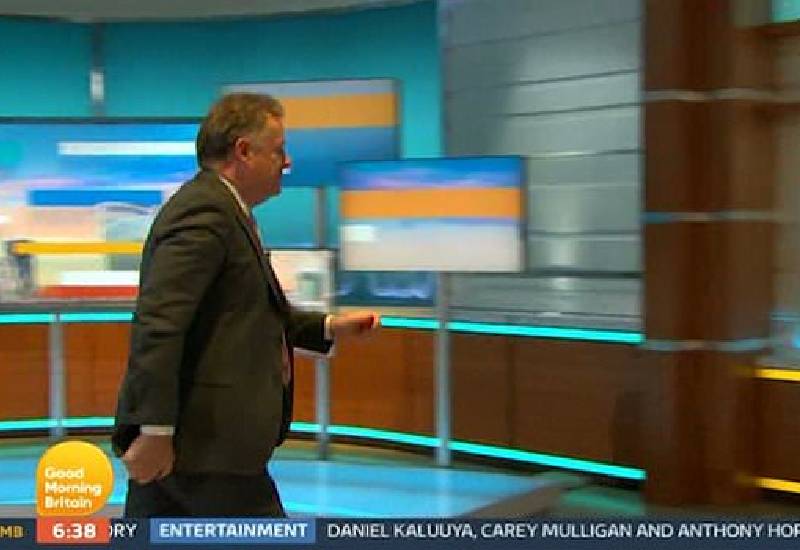 British broadcaster Piers Morgan walked off the Good Morning Britain set in protest after his co-presenter Alex Beresford defended Prince Harry and Meghan Markle.
Not the one to hesitate showing his disdain for the Duchess of Sussex, Morgan threw a tantrum when Beresford, who condemned his treatment of the two royals in the previous day's programming, disputed his thoughts about the Sussexes.  
"They have had an overwhelming amount of negative press. I watched the program yesterday. Yes, they had some great press around their wedding. But, really, what press is going to trash someone's special day? There was bad press around the engagement, before the engagement, and everything that has followed since," said ITV presenter Beresford.
According to Beresford, all the negative things being said about the former royal couple has been incredibly damaging, more so to Meghan's mental health, as well as her husbands.
"I hear Piers say that William has gone through the same thing, but siblings do experience tragedy in their lives and one will be absolutely be fine and brush it off and the other will not be able to deal with it so strongly. And that is clearly what has happened with Prince Harry in this situation. He walked behind his mother's coffin at a tender age in front of the globe – that will shape a young boy for the rest of his life," said Beresford.
Bereford sided with the former royal couple a day after Morgan took to ITV's Good Morning Britain show to express disgust and fury over Oprah Winfrey's explosive two-hour interview with Prince Harry and Meghan Markle. 
Morgan was speaking alongside his cohosts Susanna Reid and Chris Ship as they unpacked the released teasers before the full interview was aired.
"I am angry to the point of boiling over from what I have just watched," Morgan said about some previews that had just aired, adding, "this was a two hour trash-athon of our royal family, of the queen, of everything the queen has worked so hard for. And it's all being done as Prince Phillip lies in the hospital. They trash everybody," said Morgan.
According to Morgan, Harry and his wife make the entire royal family look like a group of white- supremacists by dropping the race bombshell that came up in the interview.
"They didn't say which one it was, they just throw it out there! And Harry refuses to say who it was," said Morgan.
The 55-year-old TV personality further said that he was infuriated by the couple's reluctance to name the racist family member, leaving the public to be suspicious and contemptuous with the entire royal family.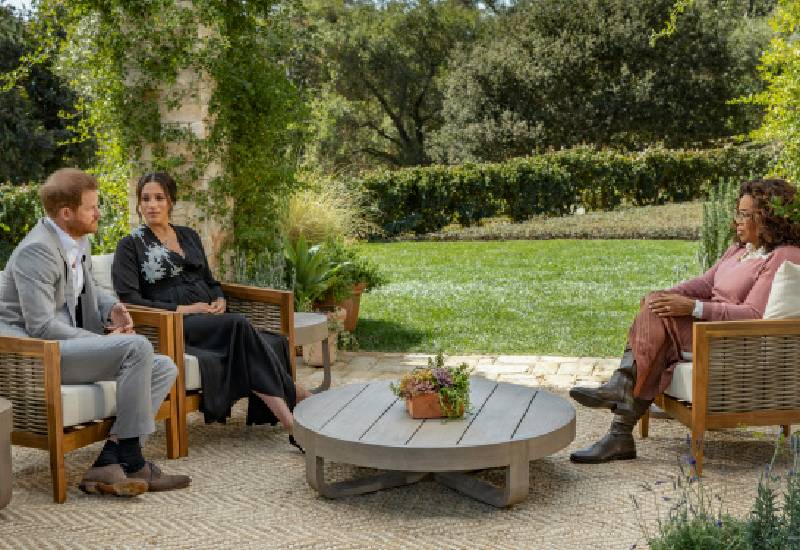 Morgan and Beresford reportedly had a heated Twitter exchange hours before they went on air together, where Beresford condemned Morgan's treatment of Meghan and his continued row with her.
"Let's be clear, Prince Harry and his wife just spent two hours trashing everything the Queen stands for and has worked so hard to maintain, whilst pretending to support her. And they did it while her 99-year-old husband Philip is seriously ill in hospital. It's contemptible," Morgan wrote on Twitter.
Berseford, however, firmly sided with the couple and called Morgan's words and actions towards Markle diabolical.
"I understand that you don't like Meghan Markel, you've made it so clear a number of times on this programme. I understand that you've got a personal relationship with Markle, or had one and she cut you off.  She's entitled to cut you off if she wants to. Has she said anything about you since she cut you off? I don't think she has but you continue to trash her," said Beresford.
The words sent Morgan into an immediately flustered fury, and he stood up and began walking off the set.
"This is absolutely diabolical behavior," Beresford continued as Morgan walked.
"This is totally unacceptable, okay, that's it, I'm done with this conversation," Morgan added as he disappeared behind the set doors.
This is not the first of Morgan's rants against Markle.
In mid 2019, he called Markle's request not to have any pictures taken of her while attending the Wimbledon Tennis Championship "an absolute joke".
In his spout, he said that Harry and Meghan's requests for privacy were ridiculous and hypocritical.
He went on to call the couple narcissist and tone deaf in 2020 after a book about them was released. The book, Finding Freedom: Harry, Meghan and the Making of a Modern Royal Family, was said to be written in favour of the pair.
Morgan wrote a scathing commentary for Mail Online as a response to the anticipated release of the book.
"It's hard to think of anyone in public life right now more relentlessly miserable, angry and negative than the Duke and Duchess of Sussex. Barely a week goes by without them whining about something or suing people," wrote Morgan on his article, going on to call Harry and Meghan tone-deaf whiny brats.