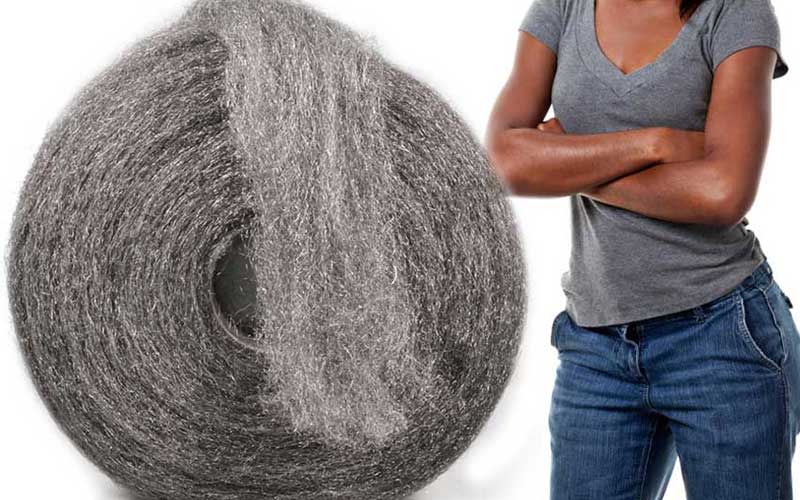 When your wife discovers you've been cheating and then keeps quiet, be afraid; very afraid. Cheating brings heartbreak and humiliation with revenge not far away from a woman's mind. There is nothing more potent like silent revenge as one way of skinning a male rat of a husband. Revenge solutions range from applying well-grounded steel wool in the husband's meals.  The wool flecks do not manifest immediately, but in less than six months, the cheating husband will be depleting his medical insurance with hospital visits more frequently than he had been seeing his mpango.
Belinda Waweru, 61, a landlady in Nairobi's Kayole area revealed that her son was saved by his boy who had witnessed the mother adding fine steel wool in his dad's meals. The son had been cheating on his wife, a salonist. Belinda claims her grandson once visited her this year - and while she was cooking wondered whether she intended to spice things up by adding a little steel wool in his dad's meal just like his mum often did back at home - food that children were not allowed to taste.
READ ALSO: 10 ways wives revenge on cheating hubbies
It dawned on cucu Belinda why her son's health had been deteriorating.  The grandson's comment made her summon her daughter-in-law. The marriage was dissolved, even though her son has not fully recovered from a sickening steel wool dosage.  Kelvin Mwangi, a clinical nutritionist at Precure Nutrition Clinic, said that those who have ingested steel wool over time often complained of bloated stomach and unusual pain for which he recommends two glass of milk daily. This he says reduces the rate of steel wool absorption in the body. Besides steel wool, here are the other ways women revenge on cheating husbands…
Bedding your best buddy
Few things piss men off than their best friends bedding their wives. Women know this and there is no better revenge to pain a cheating spouse. Lucy, a Nairobi medic, punished her cheating hubby by dating the best man at their wedding.
 "He was the only guy my husband trusted. He knew most of his secrets - and whenever we had differences, he was the peacemaker despite being aware of my hubby's faults. So I knew having sex with his best friend would be a stab where it hurts the most."
Her cheating openly with the best man made her husband call for a truce and promise to mend his wayward ways.
Hacking, connecting a phone to parents
A woman can catch a cheating husband by spying on his phone. There is no better revenge than hacking the damn gadget and emptying lewd contents to his parent's phones. A flight attendant in Nairobi's Roysambu area did just that.
"He often gave lame excuses, claiming the 'sexy' messages were being sent by prisoners from Kamiti. He had even saved the number as Kamiti," says Margaret.
Margaret employed the services of a hacker. The dude linked her husband's phone to hers as well as his parents'.
READ ALSO: Five consequences to consider before cheating on your partner
"His parents saw me as this spoilt girl who was out to stress their son. They thought I was just making up stories about his infidelity, says Margaret, Adding:" They were all shocked when we hacked his phone."
"I got my revenge and my allegations were proven. My mother-in-law was so embarrassed when she received a message from her son asking his mpango to avail herself for steamy love session. Some of the messages could not be read in front of my parents."