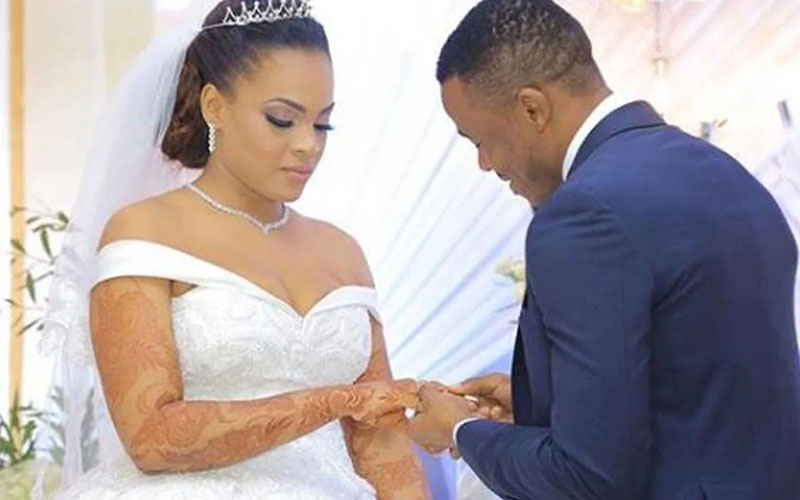 Bongo music crooner Ali Kiba has admitted that his wife Amina Khalef gets bothered when he gets touchy with women while shooting music videos. However, according to the So Hot singer,  it's an indication that she truly loves him.
"She knows that this is my work but she has to react – it shows that love is present. She raises her concerns but she knows I have to do it, I have to touch other women. She understands it's a job and I can't take it (the touching) too far, I cannot let myself go as I could before(getting married)," said Kiba.
READ ALSO: Ali Kiba clears the air on separation allegations
The singer further revealed the attributes he finds attractive in a woman saying, "First of all, reception- sura yake. The face can be sexy or cute but it doesn't matter as long as it's lovely. I also look at the feet and the waist must be curvy- she has to be hot."
Rocky patch
Kiba and Amina's union has not been all rosy as the couple was rumoured to be going through a rough patch just a year after their 2018 wedding. To add fuel to fire, Amina at one point moved back to Kenya from Tanzania. However, Kiba later said that he took Amina back to Mombasa where she had work engagements and that she has the freedom to live wherever she feels like.
Later addressing rumours that they had filed for divorce, Kiba said "It is true that my wife and I have our issues and it normal in a marriage. However, I have not divorced her. People should not enjoy while others are suffering. Are they too idle because of unemployment? God hates divorce. Where do people get the strength to encourage others to divorce? It's only the devil."
READ ALSO: Abdu Kiba speaks on Ali Kiba's alleged split from Kenyan wife
Second wife
According to Islam teachings, a Muslim man can marry up to four wives as long as he can maintain and uphold similar living standards for all of them. Speaking in an interview with Tanzania's Clouds FM soon after their wedding, Amina said she would not allow Kiba to marry a second wife.
 "I will never allow him but it's God who has the final say," she said.
The couple first met during a flight but they did not speak to each other. They were later introduced by Amina's relative who was a close friend of Kiba and they hit it off. Kiba and Amina are blessed with one child.