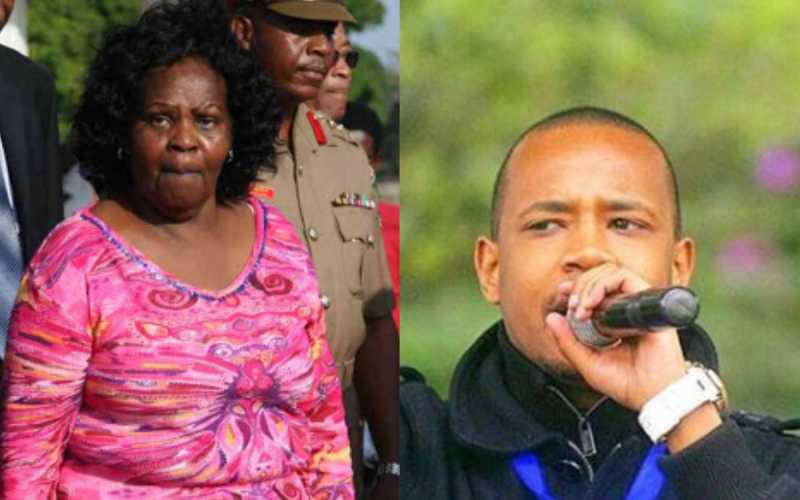 Veteran Kenyan artiste Davidson Ngibuini popularly known as DNG has come out to reveal an incident involving the late first lady Lucy Kibaki that has stayed with him for a while. Speaking at an interview, DNG revealed that he was hauled off the stage over what the First Lady termed as indecent exposure at Uhuru Park Grounds. The artiste, who was signed under record label Jomino, had been invited to perform at a rally organised by the Party of National Unity (PNU) to hype their campaigns during the 2007 elections.
In the spirit of lifting up the moods and hyping the crowd, the musician took to the stage flanked by dancers and other crew to perform his hit song, shake. Unknown to him, the First Lady was growing restless and uncomfortable with the crew as they danced themselves lame to Shake.
It was while in the middle of the performance that the First Lady ordered security personnel to kick DNG and his team off the stage for allegedly behaving indecently. He recalled he didn't get to finish his performance, but was paid his rightful dues and asked to leave.
"My rate card at that time was KSh50,000 per rally attended. The security officers ordered my crew to leave the stage," he said. He however noted that the strategy he employed during his live performances was meant to hype the crowd and not to tarnish PNU's image.
Also read: Why DNG took alcohol when he was saved
"In this industry, image is everything. My strategy of performing alongside my dancers, which was lauded by the crowd, was meant to bring hype and not for any other purpose," he stated. In March this year, DNG caused a stir among netizens when he claimed that a romantic relationship between two Kenyan artistes is bound to fail. According to the emcee, most local artistes who collaborated with their partners or featured them in their videos eventually broke up.
DNG cited the likes of Otile Brown and Vera Sidika, Khaligraph Jones and Cashy, Timmy Tdat and Kush Tracy, Diamond and Tanasha, who all broke up.
Also read: Vera Sidika's ex Jimmy Chansa reveals what happened between them
"It's very horrible, in fact it's the worst idea to date and sing with somebody you are dating. We have Otile Brown and Vera Sidika, Otile akaimbia Vera wakaachana. We have Khaligraph and Cashy wakafanya collabo mbaya sana, Cashy akapenya wakaachana. We have Tdat and Kush Tracey waliimba pamoja collabo wakaachana, Tdat anakuanga na mangori nyingi he also dated Dela wakaachana. Recently Diamond Platnumz and Tanasha, after her big song wakaachana," he said. "Kenyan artistes and relationships are cursed. We are unable to contain and sustain one partner and it's male and female, si maboy tu," added DNG.