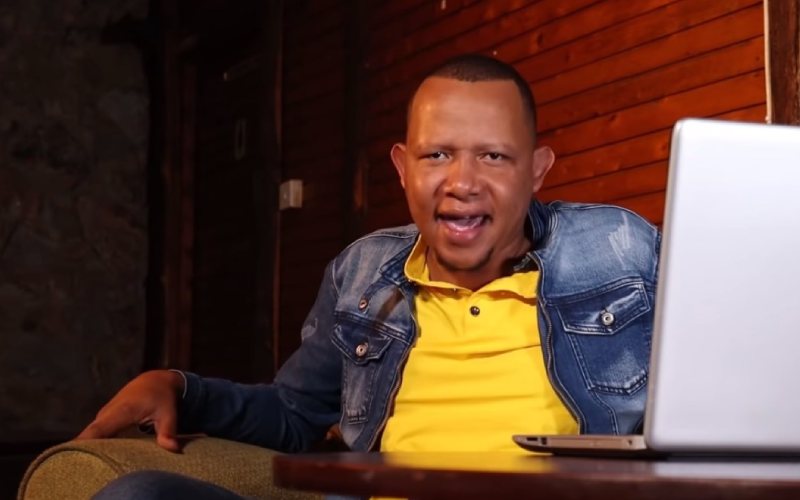 Former Tahidi High actor, Dennis Mugo better known by his screen name OJ has opened up on his battle with alcohol addiction that took a toll on his health and relationship.
Speaking on his YouTube channel OJ FLiX, the talented Kenyan actor stated that he has in the past fought to keep his personal business away from the public but requests from his fans to know him have increased significantly therefore bowing to pressure and letting them in.
"I don't talk about my stories because my story is just….. well let me say I am not the best mentor. Today let me dedicate this Aki Si Poa episode 7 to talk about myself," he said.  Brought up by a single mother, OJ recalled his childhood as normal, always getting his way and never lacking anything which as a result made him spoilt and arrogant. In an attempt to shape his character, the social media sensation was sent to boarding school in class four and only got to be independent in his final year of secondary school.
Also read: Bien opens up on difficult childhood
"I can't say I was from the ghetto really, in all honesty I was brought up well and I became arrogant, stupid and a know it all and I'm not blaming this on anyone, this is all me.
I was sent to boarding school in class four and only became independent in form four. I learnt a lot along the way, some negative." OJ went on to reveal that it was during his secondary education that he started experimenting with different types of drugs.
"I learnt alcoholism and smoking along the way. I remember I started smoking while I was in form 2. In form three I started taking alcohol and I honestly drank anything that came my way as long as its alcohol. From Chang'aa to the high-end brands all of them.
"I know it's not good and I don't know if I should say I was going through peer pressure or rebellion but I did it," said OJ.
Long term effects
Opening up on the effects alcoholism and smoking have had in his life, OJ admitted to lagging behind career wise.
"Do you ever look at your friend and get jealous about their speed of growth and how focused they were back then and you look at where you are and see your movement is nowhere and it pains you. I remember two guys when I was in third year at KIMC, these guys had an idea that they accomplished.
"Recently they came to Embu and we had a chat with them, they are basically millionaires right now. I made my first million before them but what did I do with it nothing. They stuck to their first plan in life and they accomplished that's Wakurugenzi, (Abel Mutua and Phillip Karanja). Whatever they were up to they accomplished and I didn't because of my bad habits," he said.
On his personal relationship, OJ revealed that his wife at the time packed her bags and left with their child because of his addiction.
"Fame came and everywhere I walked people recognized me. The celebrity mentality got to me. Now you can imagine you are an alcoholic and you are a celebrity. As fast as it came as fast as it left. But as soon as it went, I went into a downwards spiral [sic]…then I went into drinking, at that time I got my son Ethan with my Baby Mama. Nowadays she is my baby mama but during those times she was my wife but she left me because of alcoholism and depression," he continued.
Also read: Magoha asks principals not to send learners home over fees
The now reformed actor hopes that his story will help individuals going through similar struggles to say no to drug abuse and focus on building their lives.