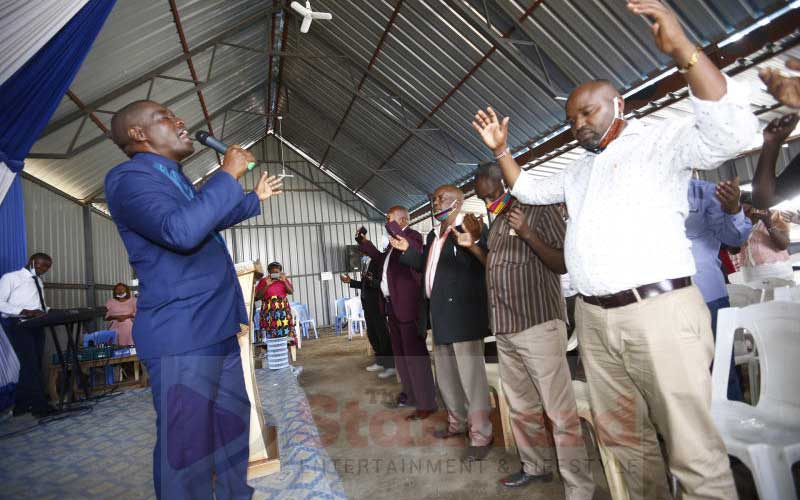 Wearing suits, others in branded T-shirts, bar and night club operators turned to prayers to rescue their businesses that have been closed for months following Covid-19. They danced and praised and keenly listened to the sermons. The operators, drawn from various parts of the country, including Nakuru and Nairobi, yesterday attended a church service at the Life Solution Ministries International's Kingdom Generation Centre in Nakuru Town West.
The prayers were held ahead of President Uhuru Kenyatta's address on the re-opening of the country expected today. Under the umbrella of Bars, Hotels and Liquor Traders Association of Kenya, the operators led by their Secretary General Boniface Gachoka said lifting the lockdown would help restore the economy. Mr Gachoka said since bars were closed in March after the pandemic was announced, hundreds of individuals who depended on the establishments for a living have been struggling to put food on the table.
READ ALSO: Deep West bar could be closed for good after police raid
"These may be tough times but without a doubt, we are conquerors. Introspectively, we human beings tend to have a fellowship with God only in good times - when life is smooth. When storms kick in, we flee and complain. We should be thankful for every moment... That is why we are gathered today, let's tell of His goodness and encourage each other," said Gachoka.
He said bar operators had put in place public health guidelines by the Ministry of Health to prevent the spread of the virus. Bar business, he added, had been neglected despite their contribution to the economy. He said with the introduction of Bar Kumi initiative, there would be accountability among operators.
READ ALSO: City bars where Kenyan leaders were brewed
"To the president, we plead that we may now re-open our businesses. You asked us to have multiple sit-downs and meetings with ministerial representatives to formulate standard operating procedures and we have done that. So we humbly ask that you allow us to reopen," he asserted.
President Kenyatta is expected to address the nation today on Covid-19 containment measures and plans to restore the economy.