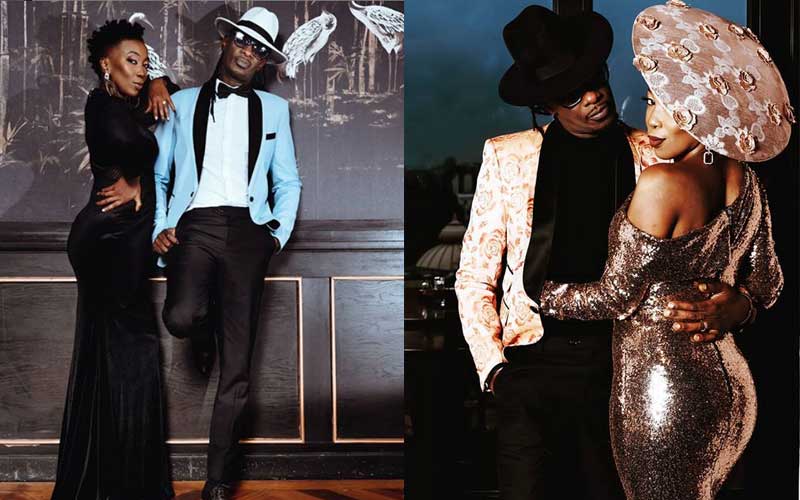 Celebrity power couple Nameless and Wahu started their love story back in college and 22 years later, they are celebrating 15 years in marriage. Taking to their Instagram pages, the pair sent each other heartfelt messages full of promises and gratitude that they never gave up during their darkest moments. Their family has grown and they are now parents to two gorgeous girls, Tumiso and Nyakio.
"September 10, 2005… I got on a boat, sailed across a lake and said "I do" to my campus sweetheart. We've had our ups and downs, our fights and makeups, our happiness and sadness, our wins and our losses… And 15 years later, you're still the one! Happy 15th anniversary to us! Here's to forever! I'm excited about the future! I love you always" Wahu wrote.
READ ALSO: Nameless almost dumped Wahu for an engaged radio presenter
"Yooo… Today it's 15 years since we said 'I do' (and 22 years since nilikuingisha box ). Tou still the one! Happy anniversary babe! Cheers to us, cheers to our journey, cheers to the ups the downs, joys and sorrows, the wins and losses, yooo! We've definitely grown! The journey continues and I still got your back," Nameless wrote.
Nameless and Wahu met at Nairobi University where the former was studying Architecture while Wahu was taking a degree course in Mathematics. The couple tied the knot on 10 September 2005 in a lavish wedding held at Lake Naivasha. They marked the big date in a stunning, royal photoshoot that has since brought the internet to a standstill. In April this year, Nameless spoke about his first date with Wahu back in the day. The lovebirds were meeting at Wimpy, then a famous fast food restaurant, but Nameless had to wait for one hour as Wahu delayed her arrival.
READ ALSO: Is this Nameless and Wahu's soon to be home?
"My first date with Mama Tumiso was here. She came one hour late. I was already bored but I couldn't tell her because I wanted to win her over. I told her 'it's ok' but deep down…"Nameless wrote in part. As he waited for Mama Tumiso, Nameless ordered for tap water as he only had a fixed amount for the date.
Like any other couple, Nameless and Wahu have had their fair share of marital problems but they have swum against the current together as one cohesive unit, reiterating their vows, for better or worse.