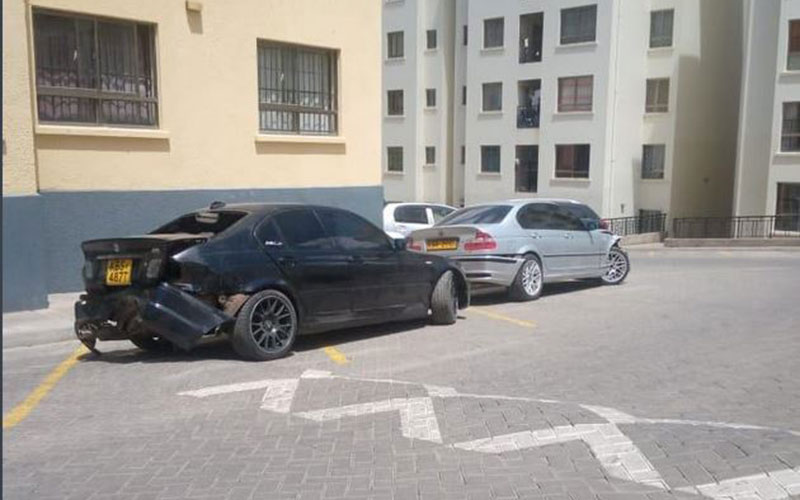 On August 2, a twitter user by the name Faith Kanja shared shocking footage of two drivers racing along Mombasa Road, ignorant of the risks they were posing to other road users. In the video, two BMWs, one registration KBS 478 are seen speeding while dangerously overtaking with one of them almost hitting a motorcyclist. Not long after, the footage depicts the two vehicles had crashed by the side of the road.
READ ALSO: Central Kenya singer James Githinji dies in road accident
"Came across some fools on Mombasa road today! Just grateful to have escaped their idiocy and recklessness," Faith captioned the video.
According to Faith, the speeding drivers crashed after reaching a diversion and hitting barriers. Footage of the crash shows the black BMW with a wrecked bumper while the silver car had damage to the front.
"Are you all okay?" one of the motorcyclists is heard inquiring from the cars' occupants to which they respond: "we're very okay." He then proceeds to warn them about their speeding. At one point, one of the occupants who is seemingly drunk emerges with a cup and bottle of alcohol in hand. After the shocking footage went viral, twitter 'investigators' soon traced the cars parked at an estate in Athi River with Faith saying she hopes they learned their lesson.
Came across some fools on Msa rd today!!

Just grateful to have escaped their idiocy and recklessness ???????? pic.twitter.com/axgpfj0RpY — Faith Kanja (@FaithKanja) August 2, 2020
This is another perspective (from my helmet cam)

You can see there was a diversion ahead and these speeding maniacs hit some barriers pic.twitter.com/qvNX8PtKQF — Faith Kanja (@FaithKanja) August 3, 2020
Here is a sample of Kenyans' reactions:
These guys passed me at mua hills I'm so lucky I had parked my car on the road side they were racing down the hill in sharp corners without a care in the world that they would find an incoming car ahead. This could have been worse. They should thank God. — Soila Ene Nkoiboo (@sasha9041) August 2, 2020
Why do you let your friends drink and drive? Your friendships are not genuine ama wao ndo wako na pesa? — I'm Lost Too, Don't Follow Me! (@Komboray) August 2, 2020
Great. You saved the insurance companies, and I actually feel it is justified. This recklessness is unwarranted. — Eng. Otieno Otuoma, PE (@PatOti2000) August 3, 2020
the moment u learn its about the driver not the car ndio itakua sense. i have seen guys in toyotas n mercs do the same stupid stuff. — Unchained No to PoliticalSlavery (@Dark_Panther_ke) August 3, 2020
It's all fun,games and alcohol till some parent has to take care of his quadriplegic stupid kids who came along for a joy ride that turned into a race on a busy highway.Y'all should take better care of yourselves and choose better company. Na anatoka na mzinga ni kama trophy. Nkt — KGuantai????????‍?????? (@Kguantai) August 2, 2020
Can we add Miraa drivers or they are way ahead of excited kids in Subaru's and bmws ???? — Chris Kirwa (@chriskirwa) August 3, 2020
Alafu uyo mtu anatoka na pombe tu ivo like nothing happened, smh — Cera ???????? (@Its_Mariga) August 3, 2020
Glad you and your crew are okay, that grey BMW was pretty close to that biker — chaos (@kibee) August 2, 2020