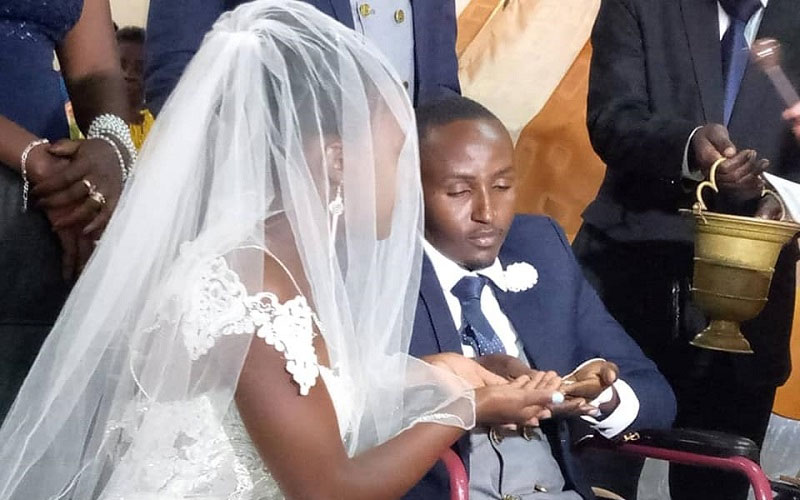 They say love conquers all. A Burundian couple has lived up to the adage by conducting their wedding in hospital. Charlotte Mukantwari and Gabin Ndayizigiye's wedding plans were all finalised but days to walking down the aisle, the groom was involved in an accident. Speaking after the wedding, the groom recalled asking himself lots of questions following the accident that left him in a wheelchair.
"After the accident, I asked myself whether the devil didn't want me to marry. I very well knew that my wedding was set for July 4 and being an important day for us, it had to go on as planned. If we hadn't gotten married, I would have felt like God had abandoned me," the groom said.
Affirming her newly-wed husband's stance, the bride said that they could not postpone the wedding hence, opted to conduct it in hospital.
READ ALSO: Coronavirus- Wedding photographer who stuck guests' photos onto empty seats speaks
"Because of my love for him, not even an accident could not make us push forward the date of our wedding," she said.
Accident
According to Gabin, they have been dating for a long time and had vowed to live as husband and wife till death. But three days to their big day, he broke his leg after getting hit by a vehicle, rendering him unconscious.
"When I came back to, I found myself lying in a ditch with dirty water and my leg was swollen. At the hospital, they were initially hesitant to tell Charlotte what had befallen me. When she was finally informed about my accident, she promptly came to visit," Gabin narrated.
The groom further said that the next logical plan of action was to postpone the wedding but the bride had other plans.
READ ALSO: Weddings during coronavirus- You can now apply online and tie the knot in style
"Charlotte would look at me lying on the bed, look at my broken leg and encourage me saying that if God gave me reprieve, our wedding would go on as planned. Her utterances shocked me because another woman wouldn't want to be seen next to me," he said.
Gabin then sought the approval of the Catholic Church to conduct the wedding in hospital and the padre accepted. The hospital management then prepared a room for the two to exchange vows and provided a wheelchair for the groom. Despite the priest hiding the exact time of the wedding to discourage crowds, their unorthodox union attracted a large crowd of onlookers keen on witnessing the triumph of love.
"Our wedding day was great. We received blessings and exchanged rings before I was wheeled back to the ward," concluded the groom.