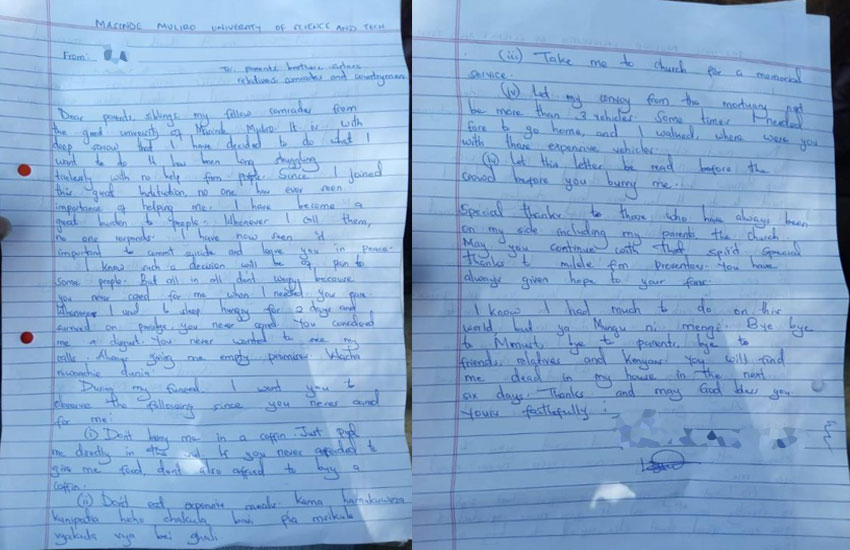 Police are investigating the authenticity of a suicide letter allegedly written by a university student. The two-page letter allegedly written by a student of Masinde Muliro University of Science and Technology is addressed to parents and peers.
Kakamega Sub-County Police Commander David Kabena said: "Attempted suicide is a criminal offence."
"We are treating the matter seriously having forwarded the same to the Directorate of Criminal Investigations for investigations."
Read Also: Campus suicides: Over 20 students have ended their lives, most due to love
In the letter, which made rounds on social media, the author said nobody was willing to help him deal with his many problems.
"It is with deep sorrow that I have decided to do what I want to do. It has been a long tireless struggle with no help from people. Since I joined this institution, no one has seen the importance of helping me," reads the letter in part.
The author says he has become a burden to people to a point that nobody answers his calls.
"I have now seen it important to commit suicide and leave you in peace. I know such a decision will be painful to people, but all in all don't worry because you never cared for me," says the distraught author.
Read Also: Revealed - More than 15 police officers shot themselves in 2018
In the letter he gives his family stern rules to adhere to during his burial.
"Don't bury me in a coffin, just put me directly in the soil. If you never afforded to give me food, don't also afford to buy a coffin," he said.
"Don't eat expensive meals."
He directs his remains to be taken to church for a memorial service and that the convoy to his burial site not have more than three cars.