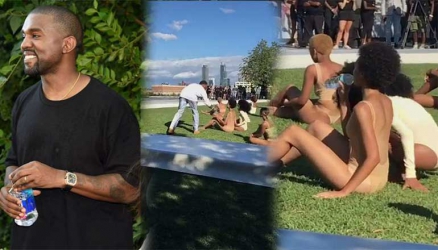 No matter what Kanye West does, it's always tainted with controversy, it seems to follow his every move and it was no different as he debuted his Yeezy Season 4 collection in elaborate style to kick off New York Fashion Week.
The hip hop icon, who has successfully turned his hand at fashion, dreamed up a unique way to showcase his collection to an audience on Roosevelt Island on Wednesday, where he invited top editors, bloggers and social media stars to feast their eyes upon his latest creations.
But the unique display was hampered by reports that models were fainting and in desperate need of water as they were forced to stand in the baking heat without shade.
It has been reported that Kanye's show, which was held in the Franklin D. Roosevelt Four Freedoms Park kicked off over an hour and a half later than the original 3pm time – keeping everyone waiting in the 86 degree heat.
So he may have basically hired out an island for the extravagant show and chartered buses to transport guests to see the latest collection for Adidas.
'It's not her fault!' Kylie Jenner defends Yeezy model who wobbled down runway after snapping heel in Kanye's show
To see the models in neutral coloured bodysuits and garments, continuing his signature theme, a New York Times Style reporter compared it to a "middle school field trip".
While another editor from Fashionista.com joked: "The #YeezyBus is really glamorous, guys! Especially when the bathroom door swings open and nearly slaps us".
Other guests, who were specifically invited by the rapper, moaned that they were not given any snacks or water on the buses.