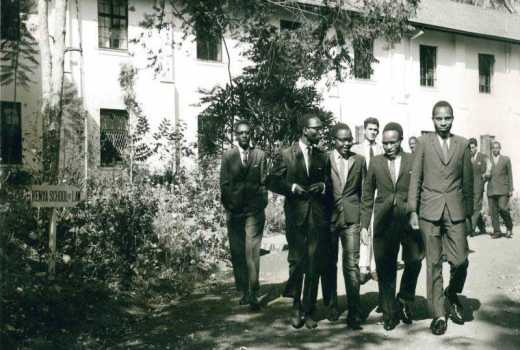 Lawyers have been in the news lately and not necessarily because a boisterous one got deported and another was released on bond for 'swearing in' the 'people's president.'
Another lawyer, who doubles as Kenya's Attorney General, resigned, and another lawyer named as his replacement.
All lawyers in Kenya must earn a diploma from the Kenya School of Law, the country's only Bar School since its founding in 1963, before being admitted to The Bar as advocates of the High Court.
The school was made possible through the efforts of colonial barrister Gerald Davis, its first Principal who oversaw admission of the first 11 African students.
The space was a four acre maternity wing. Maia Carberry Nursing Home of the Nairobi Hospital, previously the European Hospital. It was designed by Hughes & Polkinghorne who also designed the Golden Beach Hotel, Nakuru War Memorial Hospital, the Rift Valley Sports Club and the St Mary's School, Nairobi.
The Kenya European Hospital Association bought out the Maia Carberry Nursing Home (for men) whose founders have a story of their own.
Maia Carberry, a pioneer aviatrix was the second wife of the sadistic Irish aristocrat John Carberry, part of the "Happy Valley" set of Kenyan white settlers notorious for their decadent lifestyle, wife swapping and all. Maia died in a plane crash in Nairobi.
John, who remarried, was blamed for her death at only 24, as it was alleged that he bullied her into performing a flying display at an air show in 1928.
Their famous only daughter, Juanita Carberry, author of Child of Happy Valley, died at 88 in 2013.
Christine Stephanie Nicholls informs us in her book, Red Strangers: The White Tribe of Kenya, that it was in the memory of the first woman to fly from Nairobi to Mombasa that the Maia Carberry Nursing Home was established — and which Gerald Davis was instrumental in acquiring and turning it into the Kenya School of Law. Davis, who was part of transitioning Ghana as Africa's first independent country as secretary to the Governor in 1957, laid the framework for legal training in Kenya. He died at 94 in 2007.
But the Kenya School of Law which he pioneered has been experiencing massive failures for its diploma, yet those admitted are undergraduate degree holders!
Have you ever wondered why lawyers refer to each other as 'learned friends' in the face of more educated neurosurgeons, economists, chemical engineers, actuarial scientists and geneticists?
Well, traditionally lawyers learnt many subjects including tough ones like astronomy, medicine, and engineering so as to understand the diverse cases of parties involved. Although today, they seem to be 'learned' by virtue of learning of the cases before court, they have retained the term 'learned friend.'