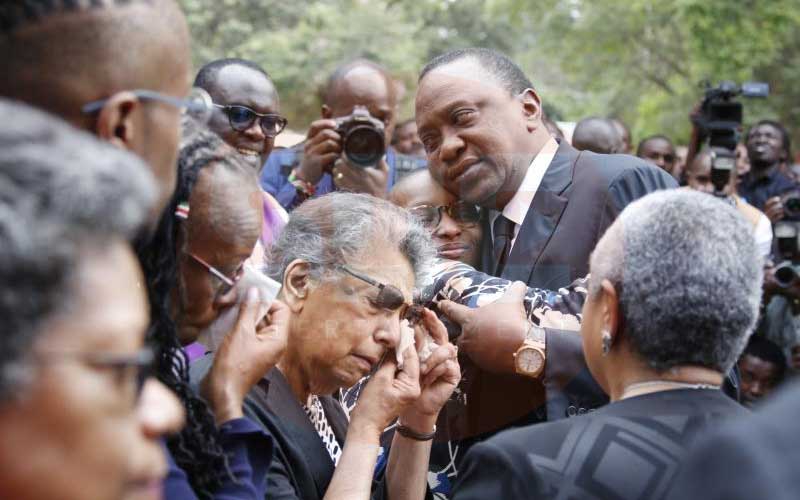 President Uhuru Kenyatta yesterday gave a moving recollection of how Bob Collymore broke news of his failing health to him.
The President, who led mourners in eulogising Collymore during a memorial service at All Saints Cathedral two days after his cremation, recalled a conversation he had with the Safaricom boss three weeks ago while on a trip to Canada.
Collymore had called him consistently at 2am for two days in a row. On the second day, President Kenyatta received the call.
"I picked it and asked him, 'why are you calling me at 2am'?" Uhuru said.
He narrated how a nervous Collymore replied that he had not realised the President was travelling.
Uhuru asked him to call when he flew back into the country.
Collymore, however, was adamant.
"I have something quite urgent I would like to discuss with you," Collymore said. "The promise I made you, that I will hang on for another year at Safaricom, I think I am going to break it."
"Why?" Uhuru prodded.
"We will talk about it when you get back."
The President was left wondering what might have happened, yet Collymore had another request: "Please don't tell anyone about what I have just said. We will talk when you get back."
When Uhuru returned, he went to see Collymore at his house. They exchanged pleasantries and revisited their earlier conversation.
"Everything is fine but like I said, I am gonna break that promise," Uhuru recalled Collymore saying with a smile.
Oblivious of the weight of those words, so well-wrapped in mirth, Uhuru said he begun teasing Collymore that maybe, Wambui, Collymore's wife, was the reason why he wanted to quit.
The President's revelation had the mourners in laughter.
"I asked 'Ah, Wambui has put you under pressure?' He answered no," Uhuru recalled.
That is when Collymore broke the bad news: "I don't think I have more than a couple of weeks to go."
Uhuru said he was momentarily speechless and then told Collymore, "You know there are still a lot of things we can try and do."
"No, I have given up. I have tried everything ... and I have accepted that my time has come," Collymore replied.
The President said they spent the whole afternoon together.
Health concern
Uhuru asked Collymore why he was talking about Safaricom while the big concern should have been his health.
Collymore responded: "My chapter is closed and I have accepted my fate. So what I want to know is what the future of this company is. What's going to happen?"
The two friends spent time talking about what Collymore's vision for Safaricom was. They also discussed what Uhuru's legacy should be.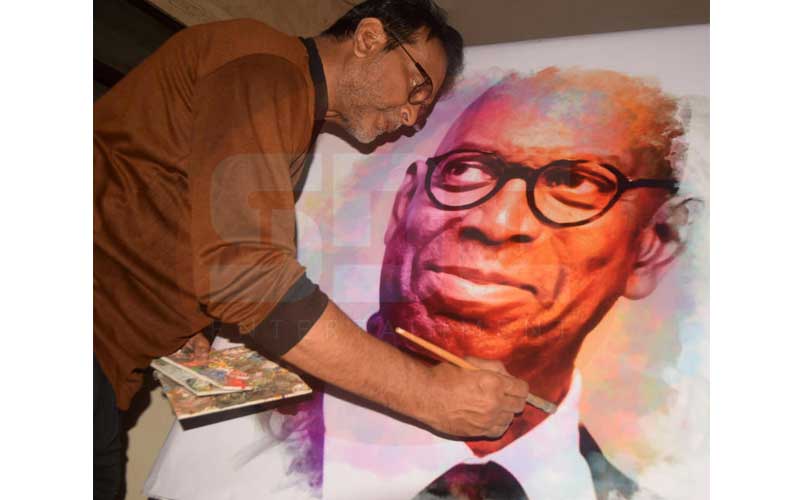 When the President was leaving, he asked Collymore if there was anything he could do for him.
"Just take care of Wambui and the kids. That's all I want. I am not interested in anything else."
Uhuru cracked up mourners when he revealed that a 'special reserve' whisky that Collymore shared with his friends, among them Peter Kenneth and Kenya Commercial Bank CEO Joshua Oigara a week before he died, was actually a gift from him.
"So Peter Kenneth, Oigara and crew you have to pay. That didn't belong to you," he jokingly said.
Uhuru said the country has lost a true champion; a man who had a passion for the youth and the arts; a person who lived not only in service to himself and his family, but also to society.
He said Collymore's contribution to the country, in only the 10 years he was around, was greater than most who have lived in Kenya all their lives.
"I am certain Bob loved Kenya. He loved it like his own country, and Bob loved his wife and children dearly. We have lost a friend; we have lost a part of our soul," said Uhuru.
Collymore's wife, Wambui Kamiru, gave her tribute by reading a speech Collymore gave to a group of children in 2013 titled 'A person is a person, no matter how small'.
She said one is never too small to make a difference in this world.
"Never be ashamed of who you are. Never apologise for what you have. Never let people decide how you should feel about yourself. Be proud of yourselves and your achievements. Speak out and be considerate to those around you because a person is a person, no matter how small," Wambui said.
Former British Prime Minister Tony Blair said Collymore was a great human and a wonderful example for all.
Deputy President William Ruto said Collymore behaved and interacted as though he was going to live forever. This, he said, demonstrated his courage.
Safaricom chairman Nicholas Ng'ang'a said Collymore always fought for people to get a fair deal, whether it was for short-term gains like salaries and bonuses, or for long-term projects.
Mr Ng'ang'a remembered that it was Collymore's idea to let people transact on M-Pesa for amounts as low as Sh100.