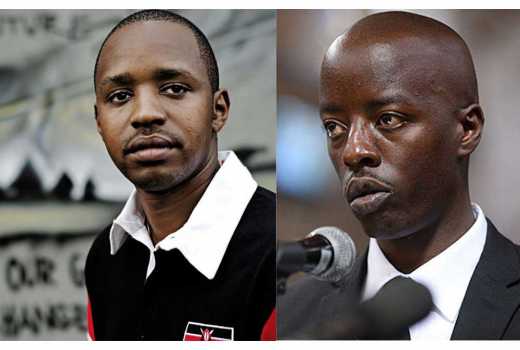 There was drama online when Human Rights activist and former Starehe Constituency parliamentary aspirant Boniface Mwangi engaged Raila Odinga Junior over a toy that the former claimed her child was denied at a city restaurant.
The last born son of NASA leader Raila Odinga took to his official Twitter handle to lament how his child was discriminated at the joint claiming that his child was denied the toy because of racism.
The post aroused reactions among netizens and Boniface Mwangi also weighed in. He accused Raila Jr of propagating malicious claims against the establishment.
In his version of the story, Mwangi claimed that the toy belonged to a 3-year-old child and not the restaurant.
Unfortunately you are incorrect with your version. Everything belonged to Talisman and the Talisman manager. We Asked to speak to the manager but were denied we have not been called by Talisman Managment to give our account to date. — Raila Junior Odinga (@Railajunior) January 16, 2018
According to Mwangi, the kid agreed to share his toy with Raila Jr's child but when he later wanted it back, a nanny was sent to collect it and hence the reaction by Raila Jr.
The controversy did not end there as Raila Jr quickly responded terming Mwangi's version of the story incorrect. He adds that they asked to speak to the management of the facility but they were not permitted and neither have they been reached by the management to give an account of the Sunday incident.
It is then that Mwangi backed his statement saying he had called the management of the restaurant and that is where he got his version of the story. He even went ahead to share a picture of the toy in question and asked Raila Jr to get his daughter a similar one.
It is then that Raila Jr demanded to know on whose side Mwangi was acting saying that if he was impartial on the matter, he would have called him as well to get his version of the story too. Of course he did not finish until he mentioned that the issues was not about acquiring a toy for her daughter or not.