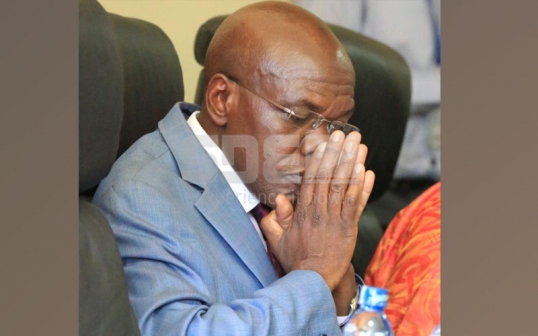 Former Kakamega Senator Boni Khalwale has claimed that his life is danger.
According to Khalwale, unidentified men in two cars claiming to be from the Flying Squad stormed a Nairobi hotel where he was and tried to arrest him on 18th November.
Khalwale, through his official Twitter handle claimed the incident took place at 9:30 pm and that the two cars trailed him up to 2:00 am on the 19th.
Khalwale further claimed that the men refused to identify themselves to hotel authorities.
@JBoinnet, @FredMatiangi, fellow Kenyans, my life is in eminently danger! Last night, at 9.30pm, men in two cars claiming to be from flying squad, stormed a Nairobi hotel 2 arrest me. They refused to identify themselves 2 hotel authorities but stalked me upto 2.00am this morning! — Boni Khalwale (@KBonimtetezi) November 19, 2017
His post elicited reactions from social media users:
NRM ALERT: Two heavily armed flying squad assassins tried to kidnap @KBonimtetezi last night at 10pm at the Panari Hotel along Mombasa Road - and pursued him for 5 hours thereafter. To @UKenyatta & @WilliamsRuto: The #NRM generals are not afraid of you. We shall defeat you! — Dr. Miguna Miguna (@MigunaMiguna) November 19, 2017
I hope you are safe wherever you are Mheshimiwa, we will RESIST — S.C Orengo Junior (@limousine09) November 19, 2017
your case has been recorded in Twitter central police station. your security will be tightened with retweets and hashtags. — Billy. O (@BillykellyO) November 19, 2017
Be still, you shall overcome, shout without being silent on matters affecting the common mwananchi — Michael Asola (@mikeasola) November 19, 2017
Social media is not a report office, kindly visit nearest police station and record your statement,stop looking for sympathy in social media — ABDUL ISMAEL (@Abdul_Ismael87) November 19, 2017
..then what happend after 2am sir? — samwell G' (@G_samwell) November 19, 2017
You don't report in social media hon!report to relevant authority — george miringu kiare (@kiaregeorge) November 19, 2017