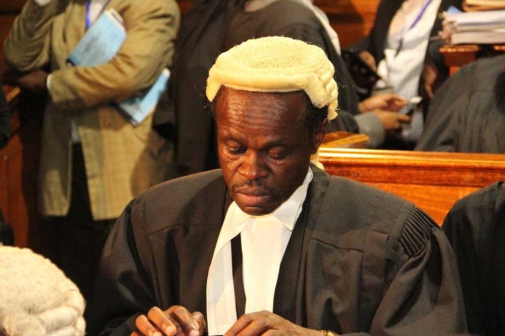 PLO Lumumba is a lawyer representing Independent Election and Boundaries Commission chairman Mr Wafula Chebukati.
His style of presentation was criticized, satirized and praised in equal measure as internet users expressed their views  
As soon as PLO Lumumba stood to address the Supreme Court judges at the ongoing presidential case, the court room lit, lawyers became alert and the internet jammed with numerous comments.
While defending the chairman of Independent Election and Boundaries Commission, Mr Wafula Chebukati, PLO Lumumba likened the role of IEBC during the elections as that of a midwife.
"We delivered a baby, that baby is alive and well, you are being asked to strangle the baby! Decline, the baby is alive and well," he submitted.
"….Of small things the law knows no cure, " he would throw a jab.
As he got deeper into his submission, the words became hefty. Kenyans on Twitter were quick to express their opinion on the lawyer's diction and style of presentation.
Some expressed their disappointment with 'his stand' while others simply made fun of the situation coming up with hilarious lines and memes to entertain the netizens.
How am looking at PLO Lumumba and wondering if he is the only person in Kenya that has benefitted from Education.#PresidentialPetitionKe pic.twitter.com/wMycJFcmja

— Victor Mochere (@VictorMochere) August 28, 2017
If i pay school fees for my child and he doesn't become as bright as PLO Lumumba,am selling his kidney to get back my money???????????????? — ???? (@WaweruWaweru2) August 28, 2017
If you want to understand what "zealous advocacy" means just go back and look at #PLOLumumba #PresidentialPetitionKE — Barr. FKF ???????? (@fredriqk) August 29, 2017
PLO Lumumba in Campus ???????? #PresidentialPetitionKe#ObeyCourtOrders pic.twitter.com/ZTKdQFoEE5 — Lee M. Gitau (@leemathenge) August 29, 2017
PLO Lumumba : "The schizophrenic jurisprudence with which the petitioner trioxidated the submission is gastrocnemius" #JeffAndJalasOnHot96 pic.twitter.com/vcQovhSZri — #JKLive (@LiveJkl) August 29, 2017
All those who have watched PLO Lumumba submission in #PresidentialPetitionKe are requested to pick their Law diploma from KSL tomorrow 11am — Philip Mwaura (@philipmwaura) August 28, 2017
PLO Lumumba : "The schizophrenic jurisprudence with which the petitioner trioxidated the submission is gastrocnemius"...My Lord.???? — Kevo Sang (@kipschir) August 29, 2017
If you had a bad day just think what waititu and joho were going through listening to"PLO Lumumba" #PresidentialPetitionKe — Nderui misheck. (@NderuiMisheck) August 28, 2017