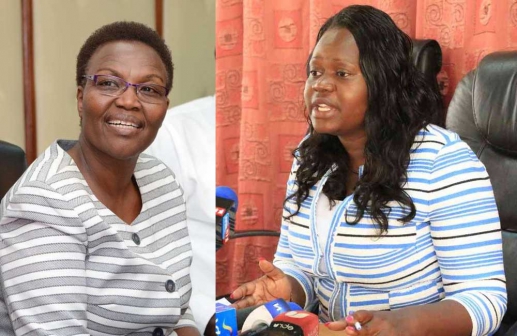 The SRC proposed salary structure that reduced pay for all top government employees starting from the President and his Deputy
The MP's have come out lashing at the new figures even before they are sworn in
Kenyan's were not left behind in the tussle the MPs are staging with SRC as they openly expressed their disappointment with the move by the MPs
Even before they are sworn into office for the start of the 12th Parliament, MPs through Gladys Wanga, the Homa Bay Woman Representative-elect and a member of the outgoing PSC have dismissed the new salary structure for MPs set by the Salaries and Remuneration Commission (SRC).
Ms Wanga faulted SRC for the manner in which it handled MPs' salaries, saying there was a deliberate move to weaken the position of MPs and senators, hence the decision to lower their salaries and allowances.
The move by MP's to seek pay rise has cause a storm on social media. The topic is currently trending on twitter under the tag #MPsPay
Some of the MP-elects who have come out boldly to oppose the move of pay rise are Starehe MP-elect Charles Kanyi, popularly known as Jaguar and his Nyali counterpart and former investigative journalist, Mohammed Ali.
Just to categorically state; I am not in support of a pay rise. Count me out. #MPsPay#mwamkompya#starehe — Jaguar Kenya (@RealJaguarKenya)
I, Mohamed Ali Mohamed do not support any move to increase my salary and that of my fellow elected Members of... https://t.co/i3iFzBHoWX — Mohammed Ali (@MohaJichoPevu)
Here are some of the reactions:
Funny how there's no NASA or JUBILEE when it comes to #MPsPay.

Lessons Kenyans should learn when choosing leaders!! — Thee Trend Setter ™ (@xtiandela)
When it comes to salaries, there is no tribalism. Suddenly, they miraculously unite. #MPsPay — Nyashinski (@RealShinski)
I watched Gladys Wanga speak on national TV that earning KSH600K is begging and just realized, Kenyans, YOU ARE ON YOUR OWN #MPsPay — Lord Mutai (@ItsMutai) August 23, 2017
@kot#MPsPay reminds me of malicious touts who shout 'Tao 50' then ukiingia muanze kuenda it's suddenly 'gari ni 80 madam'#NoMovingOn — Kelvin Muthengi (@MuthengiKelvin)
The most insulting thing I have heard today is
"I need a good salary to maintain the Mheshimiwa outlook" ~ Gathoni wa Muchomba#MPsPay — Polycarp Hinga® (@PolycarpHinga)
Guess the first order for MPs when they return.

Their salary!

It's never about you folks.#MPsPay — Ahmed Mohamed (@Asmali77) August 23, 2017