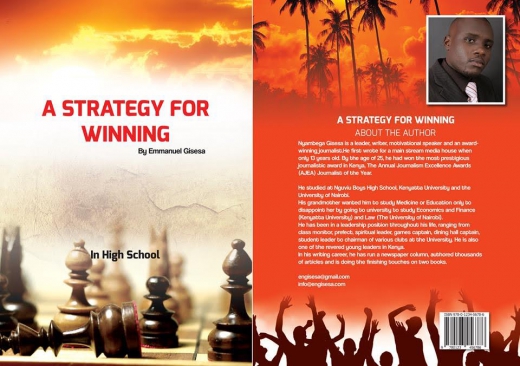 A new motivational book that will be launched this Friday in Nairobi will bring together leading youth leaders from various sectors spearheading what the organizers describe as the "third liberation" of Kenya.
The book, A Strategy for Succeeding in High School, authored by journalist Nyambega Gisesa will be launched on Friday evening at the JR Restaurant located in the first floor of Post Bank House, Nairobi CBD. The book is a realistic inspirational and motivational guide for high school students, parents and teachers.
"We have selected key speakers for the launch. These young speakers are leaders in various fields ranging from politics to business and they are the people who will drive the country's third liberation," Joseph Gesimba, an entrepreuner, who is the lead organizer said.
The speakers include nominated MP Isaac Mwaura, former presidential candidate and founder of Onward (a leadership movement) Ronnie Osumba, Kiharu MP Irungu Kang'ata,   motivational speaker Gerishom Okonda, businessman Ndindi Nyoro ,controversial SONU student leader Babu Owino, Nairobian columnist Silas Nyanchwani and Nyamira County Minister for Trade Jones Omwenga.
"The first liberation heroes fought for our independence. The second liberation heroes fought for expanded democratic space.  These vibrant young people are on the fore front of fighting for the country's economic growth and positioning as a key player in geopolitics," Gisesa said.
In 2013, Gisesa became the youngest journalist in Kenya to win the prestigious Journalist of the Year award in Kenya.  He is also working on two other books.
One of them is a semi-autograph and personal account of the March 2009 student disruptions at Kenyatta University, which parliament described as the costliest university unrests in the history of the country. The other book is based on Kenya's military incursion in Somalia.