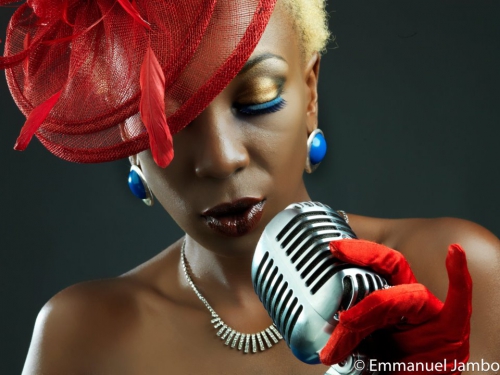 By Sheila Kimani (@sheilakimm)
Proudly telling the world how her young daughter Nyakio went to hospital and braved the medical experience without shedding a tear, it is clear that Wahu is a proud mother. At the same time her indelible mark upon the Kenyan music industry cannot be overlooked and her journey is quite inspirational.
Born in 1980, Wahu was all about beauty and brains; She attended Precious blood Riruta where her love for music blossomed. It was while in school that she and a friend wrote their first song "showers of blessing" in celebration of their impressive KCSE performance. So good was the song that it is still used as a "school anthem"
After high school she joined Nairobi University for a degree in Mathematics. While in school, her love for the music and arts introduced her to media personalities and artistes who encouraged her to start a musical career. At the same time her beauty bagged her a modeling gig which helped her to finance her campus education.
Despite pressure to join the corporate world, Wahu's love for music kept her on the shaky unpredictable path of music back then. She was one of Kenya's most celebrated singers with hits like Niangalie, Esha, Sitishiki and liar all of which catapulted her career to great heights.
Her music led to her winning MTV Africa Music Awards 2008 - Best Female, Pearl of Africa Music Awards 2008 - Best Female Artist (Kenya), CHAT Awards 2008 - Favorite Female Artiste, Kisima Awards 2008 - Best Song ("Sweet Love") & Best Reggae Artiste/Group as well as many other nominations.
Back in campus she spotted David Mathenge a.k.a Nameless while perfoming and yet again, they met in the music industry where a love blossomed. After speculation and a very active rumor mill, the celebrity couple held one of the most celebrated weddings that made news headlines.
They were later blessed with their first daughter Tumiso to whom wahu dedicated the song "sweet love". From then on she has gone ahead to do music and star in advertisements endorsements up till she was blessed with their second baby Nyakio.
While Tumiso inspired her to make music, Nyakio inspired her to start a blog where she tells of her daily musing as a mother and also advices them on the up and downs they may encounter during mother hood.
Quite the game changer and proud mother Wahu is a reflection of the modern woman who does her best to juggle career and family life. Above all she is a role model and it is for this reason that she is our WCW today.