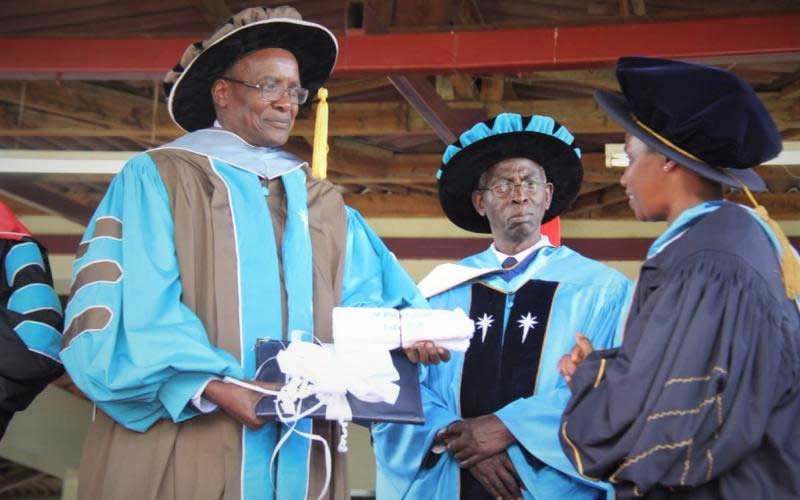 Chief Justice David Maraga declared his wish for this Christmas during Daystar University's 41st graduation on December 14.
"The utmost gift I expect from my learned friends this Christmas is for them to be religious," Maraga revealed, adding that he always wished all his colleagues were devoted Christians guided by biblical teachings and Christian values.
"If I were asked to advise, I would urge that all lawyers should be Christians. The kind of functions, responsibilities bestowed upon lawyers require them to be people who fear God," he explained.
He added that: "Quite a number of people wonder how a lawyer can be a Christian. When lawyers stand in court defending people, you know some even regard the accused as criminals even before they are convicted... they see lawyers as people who are there to lie for others, but that is not the case. That is not always the case."
The staunch Seventh Day Adventist church elder was bestowed with honorary doctorate in law degree during the graduation ceremony. Maraga dwelled on Christian values in relations to the legal profession.
"Those who graduate as lawyers will go out there and find out that there are times that you hold huge sums of clients' money. In that respect, you are trustees and you need to remember that that is not your money. That is not a mean responsibility and the trust people put upon them must be respected," Maraga said.
He said he has been in situations where he held clients' monies, but that his adherence to Christian values enabled him to maintain his integrity.
"Ever since I was informed that Daystar was considering me for this award, I have been asking myself what exactly in my life journey made me a candidate for such a great honour.
"What among the things I have done in my life can serve as an example to others so that they too may attain a comfortable level of achievement? The thing I thought of is my acceptance of Jesus Christ as a saviour of my life and proclaiming his facts with pride and confidence for all to hear," he said.
He took time to read from the gospel of Mathews 10: "When you acknowledge the word he declared centuries earlier that the fear of the Lord is the beginning of wisdom, all aspects of life, your work, your family, community engagement and so on, fall into place and are aligned to celebrate your special relationship with God."
He added that, "As a lawyer and a judge, the other thing I reflected on and to why you picked me for this honour, is the interplay between my Christian life and my career as a lawyer and as a judge".
Reiterating provisions of Constitution Maraga, said that even those unacquainted with biblical teachings know the Constitution outlaws discrimination and seeks to enhance equality of all persons.
"Who dares dispute that all these are but transcripts of the very Christian values that our Lord expects us to live by. We serve a God of love and order. As Christians and judges, and everybody for that matter, we should be at the forefront standing up against corruption and impunity," Maraga said.
Would you like to get published on Standard Media websites? You can now email us breaking news, story ideas, human interest articles or interesting videos on: [email protected]