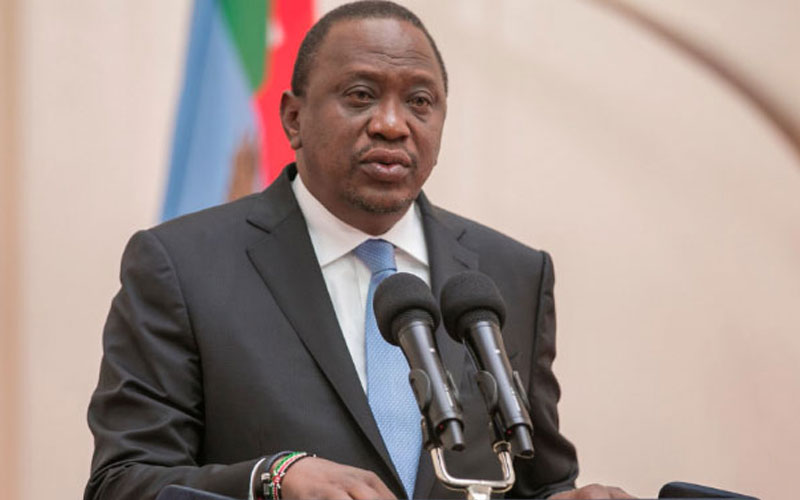 The conversation around president Uhuru Kenyatta's imminent retirement has been gathering steam.
A group of Mt Kenya leaders have made it clear that the President is too young to retire, sentiments that have been echoed by outspoken Cotu secretary general Francis Atwoli, Kisumu Governor Prof Anyang Nyong'o and other progressive forces.
The President is on record stating he has no intention of extending his stay in office, which is terribly unfortunate.
It would be ridiculous and against the spirit of the East African Community for him to step down and cool his heels in Ichaweri when fellow Presidents Yoweri Museveni of Uganda, Paul Kagame of Rwanda and that joker in Burundi are still inspecting military guards of honour. 
On this basis, it is totally in order for Uhuru to succumb to peer pressure and amend the constitution to allow him seek another term.
He has the numbers in parliament and with his brother Raila Odinga now following his nyayo, the son of Burning Spear can execute this thing with the mere flick of his flywhisk.
There are several reasons why Uhuru should dig in. First, what's the poor chap going to do at home at the tender age of 61 when his peers around the continent are building their nations?
Why would folks twice his age continues serving as presidents in other countries while him, a toddler by comparison, plays with grandchildren and manages his goat and waru farm?
Secondly, by and large, Uhuru is a great leader. In just six years, he has revolutionized agriculture, stabilized the economy which had taken a beating after ten years of President Mwai Kibaki's inept stewardship, enhanced respect for human rights and freedom of the press, entrenched meritocracy in appointment to senior government positions, created jobs for youth and women, erected stadiums, stopped corruption, and revamped the education, health and transport sectors. Don't argue with me, stupid. It's all in the government portal.
It therefore behooves us as Kenyans to forget this mzungu nonsense about term limits and give Uhuru another term because we badly need his unrivaled leadership skills.
Besides, who would take after him anyway? Raila Odinga is too busy building roads all over Africa.
Kalonzo Musyoka has all but thrown in the towel and agreed to be an errand boy after reflecting on the words of retired President Moi: Kuwa Rais wa Jamhuri ya Kenya sio mchezo.
Mudavadi cannot be president, for the simple reason that Luhyas are too broke to cough up Sh6 billion needed for campaigns.
As for DP William Ruto, it would be a total waste to make him President, when he can use his brand new PhD to fix our environment, which is a mess, and to travel around the country preaching peace, integrity and fund raising to build churches.
It is also worth noting that if Uhuru exits State House, the presidency will have crossed River Chania into Murangá where His Excellency Mwangi wa Iria is gearing up to become the Agikuyu political leader. Since when did Murangá lead Nyeri and Kiambu? 
In any case, through the years, we have been trained to preserve our culture and to follow bible teachings. If you read the Holy Book, you will notice that not once is Wafula Chebukati mentioned.
Leaders were anointed, not elected, and this is the path we must follow.  And if our African traditions, our average retirement age for Kenyan presidents is 80.
Last but not least, there is the small matter of Chinese loans and Eurobonds. Granted, all the massive development we see around has been facilitated by the President borrowing cleverly and prudently investing the loot in maendeleo.
It is only fair that he repays our foreign debt before going home to Gatundu South, don't you think?
This is his cross, and he must bear it. Kumi tena!
The views and opinions expressed here are those of the author and do not necessarily reflect the official policy or position of Sde.co.ke