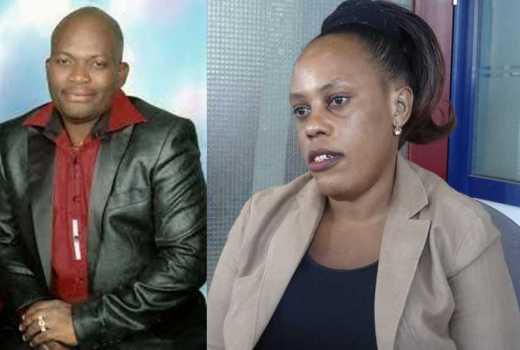 Rose Mueni, the woman who claims she was married to Quincy Timberlake for 10 years before he dumped her and married TV hottie Esther Arunga, is now homeless.
Mueni, who made an appeal for help on social media, told The Nairobian that she has been staying with a friend in Nairobi's Tena estate after she was thrown out of her house in June 2017.
She also claims her health deteriorated after losing her mother last year and that she is at her wits end because she is unable to fend for her children.
"Life has been hard. My sons have undergone psychological torture. My health is not good,  I think I could be suffering from high blood pressure. I'm a motivational speaker but with all these problems, nothing seems to be working for me," she said.
Mueni, who claims to have dropped out of college to marry Timberlake, says her three children who are in Form Three and Classes 8 and 7 have dropped out of school and that it is this that has compelled her to air her problems and seek help.
She says her first born son, who was studying in Kitale, is supposed to move to Nairobi because of distance and financial challenges.
Apart from fees for her children, she hopes to raise Sh45,000 to pay the deposit for a flat in Tena which is expected to cost Sh45,000 (two months deposit and one month's rent).
"His two younger brothers are supposed to join Class 8 and 7 respectively. The director of the school they attend has been assisting in sponsoring their tuition, but they are in need of uniform and text books. Keeping them in school will cost about Sh80,000, including uniform," she stated.
 In 2015, Timberlake's mother Rosemeg Wambita denied any knowledge of Mueni or the children.
"Initially, she denied any knowledge of me. I had to travel all the way to Kisumu to see her. We had a chat, but she is also neglected," said Mueni.
Mueni claims she met Timberlake in 1999 in what she described as love at first sight, and that towards the end of that year, she was pregnant with their first child.
Then Timberlake was a musician who travelled a lot but after some time, his sojourns became unusual, making her suspect that he was seeing another woman.
By the time Timberlake and his colleagues were arrested for running an illegal society in 2010, she had made up her mind to confront him.
By then, she claims, his music career and businesses were suffering because of his "hot temper".
"I went to my bedroom and cried. There was nothing I could do. He is a man and I could not stop him from marrying another woman.
"From that time, he stopped coming to see us and even stopped sending us money. I met him once and confronted him. He said he wanted to move on with his new life and I had no alternative but to accept his decision," claims Mueni.
This new development rekindles memories of Timberlake, the swashbuckling 'millionaire' who popped out of the blues in funny shoes and a strange accent and left disaster in his wake.